'Pokémon Go' Nest Migration 19: How to watch for changing spawn locations after the update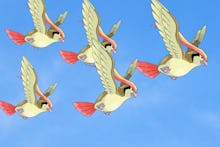 Well, it's that time again; time for another nest migration in Pokémon Go. It's time to bid a fond farewell to that Houndour or Kabuto nest within walking distance of your home, or perhaps breathe a sigh of relief that (hopefully) that Sentret nest is going away — at least for a little while.
As always, if you're looking to help out with flagging nests, or it's your first migration and you're a little overwhelmed as to what's happening, we've got you covered.
Pokémon Go Nest Migration 19: How to check for new spawns using the tracker
According to the Silph Road, the 19th nest migration occurred at midnight on April 20, which means that the Global Nest Atlas has officially been reset. You don't need to register an account with the Silph Road or Reddit to utilize the Nest Atlas, but bear in mind that it's going to be pretty lean for the next few days while new nests get reported. If you'd like to contribute, though, you can always authenticate your account with the Silph Road. 
As always, you can sort the Atlas by species and verified nests if you're not interested in chasing phantoms. Just don't expect to see ultra-rare Pokémon like Aerodactyl or Larvitar showing up super frequently.
Pokémon Go Nest Migration 19: How long do we have with the current spawns?
If you find that you're not super enthused about your spawns, don't worry. Niantic changes up the nest spawns every other Thursday (excluding a few instances where they've done consecutive weeks instead), so expect another nest migration on May 4, barring a huge update or other upheaval of Niantic's carefully planned migrations.
Until then, hopefully you've got some new Pokémon you can catch for a big XP buff in the waning hours of the Eggstravaganza. And if not, well, it might be as good a time as any to walk to a new part of your city and see what you can find. Happy hunting until the next update.
More Pokémon Go guides, tips, tricks and updates
Check out Mic's Pokémon Go tips and tricks. Here are guides on how to get stardust, how to determine how long it will take you to reach level 40, the kind of Pokémon you get from 10km eggs, how to create new PokéStops, how to maximize your chances of catching Pokémon and how PokéStops distribute Pokémon eggs. Also check out how to catch Gen 2 baby Pokémon, our analysis of post-balance update Chansey and Rhydon and everything you need to know about finding the long-awaited Pokémon Ditto.