Zara pulls skirt after customers complain that its design resembles Pepe the Frog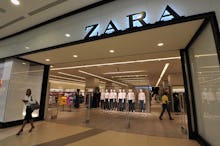 Major retailers pulling items for horrific reasons is nothing new. Forever 21 recently pulled a sweatshirt that alluded to rape. Urban Outfitters has pulled shirts for referencing the Kent State massacre and a tapestry for alluding to the Holocaust. 
But ditching a design because it features a cartoon associated with neo-Nazis? That's a new one. 
Zara announced Tuesday it would finally remove a skirt from its website and stores that featured a messy frog design, which many thought looked far too much like a familiar smirking green frog, Pepe the Frog. 
If you're already thinking, "What's so offensive about a frog?" do understand that Pepe is no Kermit, as Pepe the Frog, which was originally a harmless meme, has gotten adopted by the alt-right and turned into a hate symbol. 
When customers saw the skirt, and the frog, on Zara's site these past few days, they were understandably upset. 
Now, Zara has pulled the skirt. 
"The skirt is part of the limited Oil-on-Denim collection, which was created through collaborations with artists and is only available in selected markets," a Zara spokesperson told the New York Times. "The designer of the skirt is Mario de Santiago, known online as Yimeisgreat. There is absolutely no link to the suggested theme." 
This isn't the first time Zara has had to pull an item because of controversy. In 2014, it pulled stripes shirts that bore a yellow star because people thought it resembled a concentration camp uniform. In 2007, it dropped a bag that bore a pattern that resembled a swastika. 
Mic has reached out to Zara for comment and will update if we hear back.