New poll puts United Airlines' approval rating ahead of Donald Trump's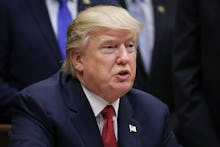 United Airlines may be facing a public relations debacle of epic proportions, but the company can take solace in at least one thing: The airline is more popular than President Donald Trump.
A new poll by the always irreverent Public Policy Polling asked respondents whether they had a higher opinion of United Airlines or Trump. Forty-two percent of respondents picked United Airlines; 40% chose Trump.
The question was part of a survey from the left-leaning polling firm seeking to gauge Democratic enthusiasm following a pair of congressional special elections in which Democrats out-performed expectations in traditionally Republican districts.
The poll found that 63% of Democrats are "very excited" about voting in the 2018 midterm elections next November, while just 52% of Republicans are very excited to cast their ballots.
It also found Trump had a 43% approval rating.
"Democrats have a lot of reason for optimism looking toward 2018," Dean Debnam, president of PPP, said in a release. "Their voters are considerably more fired up about voting right now."