Malt powder is the secret ingredient that'll make the best pancakes of your life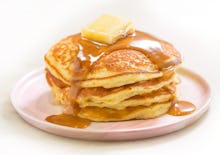 Pancakes are tricky. Diners across America somehow manage to cook their pancakes into fluffy orbs of syrup-ready deliciousness, but trying to recreate the same stack at home usually results in an uneven, dense mess. What if there was an ingredient you could add to your pancake batter that would basically guarantee success?
In Brooklyn, a new batch of flapjacks is peaking up from trend-conscious brunch spots: malted pancakes. A long-used technique on griddles across America, the malted batter is suddenly creeping into avocado-toast territory, and it won't be long before you and everyone you know is stirring malt powder into their pancake batter. 
Sunday in Brooklyn, a Williamsburg hotspot serving weekend fare all week long, was one of the first to debut its now-iconic $16 malted pancakes with brown butter in late 2016. 
"I'm not really sure where the idea came from really," Chef Jaime Young said during an interview with Mic. "I wanted to make the kind of pancakes that literally looked like those perfect cartoon pancakes, so I took a shot in the dark." Young wanted to use nut butter in his pancakes to "enhance the richness factor" and eventually landed on a recipe including hazelnut butter and maple syrup.
Malt powder, also called malted milk, is perhaps most recognizable as the key ingredient in creamy malted milkshakes or Whoppers malted milk balls. The old-school candy-shop ingredient is made from barley malt — the same starchy ingredient that flavors beer — wheat and evaporated milk, and is sold in powdered form at grocery stores and online. 
Young doesn't believe malted pancakes are better or worse than non-malted pancakes, but he admits they are "different" thanks to the malt's "sweet and nutty undertone."
The best tricks to making fluffy pancakes? 
"Not over-mixing the batter," Young said. Next, you'll want to cook that batter in a pan that's on medium heat — pancakes don't cook well if your pan is cold, Young added — sprayed with a spritz of nonstick cooking spray. And don't flip them too soon! 
East One Coffee Roasters, which opened in March in Carroll Gardens, offers its own rendition of malted pancakes, a $12 stack of two topped with berry compote, mascarpone and maple syrup. Chef Will Ono said the addition of malt powder to his batter adds "a natural sweetness and nutty flavor" and that any pancake batter can be made malted-style with the addition of malt powder. 
So, where did Ono find his malted pancakes inspiration? "I grew up drinking a lot of malted milk," he said. "I thought it would be a fun idea to incorporate that flavor in pancakes, since most pancake batters require milk."
Ready to malt your own pancakes? Ono shared his recipe so you can recreate the fluffy glory in the comfort of home. 
East One Coffee Roaster's Malted Pancakes
180 grams pastry flour
Sift to mix all dry ingredients together.
240 grams whole milk
Mix wet ingredients together; add dry ingredients to wet. Mix well. Cook to order and dress with the toppings of your choice.