Haim teases new music with a cryptic tweet and fans are shook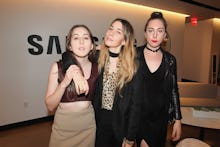 It has been a few years since Haim has released any new music, but it looks like the sisters are making their grand return. 
On Thursday, the band tweeted out a mysterious 57-second video of Danielle Haim killing it on the drums. The caption for the tweet is the date April 27, 2017, but no other details have been released. 
As a result of the cryptic video, Haim's fans are shaken and reacting to the news appropriately:
If this is, in fact, a tease for their upcoming sophomore album, it would mark their return following their debut album released in 2013. Days Are Gone earned the group a Grammy nomination for best new artist. 
Over the past few years, the girls have kept a low profile. They appeared on the Lorde-produced Hunger Games: Mockingjay soundtrack, but have been working on their follow-up album for the past year and a bit. 
In March 2016, they teased they were working on new music with an Instagram post. "We've just been in the studio so long, perfecting and trying to get it right," the band says in the video, but no music followed. 
Last July, the sisters updated fans with a note on Twitter. The band, unfortunately, could not tour Europe as a result of having to complete the record.  
"We'd hoped to be done with recording but as it turns out, we're at a critical point of finishing up and need to stay close to home until it's complete," the band revealed. 
Whenever the new music arrives, the world is ready for the grand return of Haim. 
Mic has ongoing music coverage. Please follow our main music hub here.