Anne Hathaway says internalized misogyny affected how she viewed a female director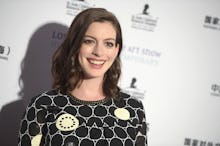 Stars, they're just like us! They go grocery shopping, have bad hair days and even suffer from internalized misogyny.
In a recent interview on Popcorn with Peter Travers, actress Anne Hathaway admitted she's not immune to letting the patriarchy affect her relationships with women and their work.
When Travers asked Hathaway what film she learned from most, the actress named the female-directed One Day. Hathaway recalled her early struggle to trust director Lone Scherfig's instincts because of her own underlying gender bias.
"I really regret not trusting her more easily," Hathaway told Travers. "And I am, to this day, scared that the reason I didn't trust her the way I trust some of the other directors I work with is because she's a woman."
Hathaway added, "I'm so scared that I treated her with internalized misogyny. I'm scared that I didn't give her everything that she needed or ... I was resisting her on some level."
In hindsight, Hathaway said it's something that likely impacted not only her relationship with Scherfig, but also how she's viewed other work written or directed by women.
"When I get a script, when I see a first film directed by a woman, I have in the past focused on what was wrong with it," she said. "And when I see a film ... directed by a man, I focus on what's right with it."
The actress — who recently wrapped filming on the all-female Oceans 8 reboot and will appear alongside Rebel Wilson in an upcoming remake of Dirty Rotten Scoundrels called Nasty Women — said she's working to overcome her mindset. After all, society makes it hard enough for women to succeed without other women piling on unfair criticism.
"That journey is way harder than it should be," Hathaway said of women in Hollywood. "It's not equal. And I wonder if it's about the thought process like the one I just talked about. About undervaluing what it takes to make your first film."