'Mario Kart 8 Deluxe' Guide: How to drive backward in 'MK8' like a boss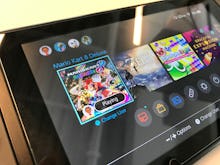 Driving in Mario Kart 8 Deluxe for the Nintendo Switch is as straightforward as it gets. Hold the A button to accelerate, the B button to brake and the R button to get your Fast and Furious drift on. However, it's not immediately clear how to drive backward in Mario Kart 8. 
If you're new to the series but want to show off your driving skills on the Switch game, here's how you can throw that kart in reverse.
Mario Kart 8 Deluxe Guide: How to drive backward in MK8 on Switch
Keeping in mind the basics, driving in the reverse direction is as simple as driving forward. To drive backward in Mario Kart 8 Deluxe, simply hold the B button to brake until you come to a full stop, then keep holding it. Congratulations, you're now driving backward.
While driving backward, you're still able to steer left or right with the analog stick or directional buttons. 
Unfortunately, driving backward won't win you any races in MK8. Even though you can steer, drifting is off-limits — a core part of winning races in Mario Kart 8. And if you're trying to paraglide backward — well, good luck to you.
Driving in reverse may seem useless, but it can come in handy when you need to get out of a hairy situation, like when you've run straight into a wall or a mucky part of the track. Or when you want to show off, if you command a strong enough lead you can back yourself across the finish line. Be sure to hit the X button and change the camera view so you can get a good look at everyone you've shamed.
Check out more Mario Kart 8 Deluxe news and coverage
If you're anxious to get racing in Mario Kart 8 Deluxe, check out our video gameplay of the first 20 minutes of the game and find out the 8 characters the game needs asap.  Learn how you can buy the game bundled with the console, including one bundle from Nintendo. Find out if we're expecting DLC and our initial impressions of the new console it's on from back in January. Or you can play Mario Kart 64 on a newer console instead, you're looking to fill that need of nostalgia.