What does "Cake by the Ocean" mean? Here's the true meaning of DNCE's hit song.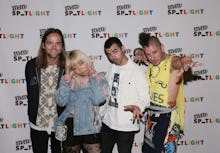 DNCE scored their first major success in 2016 with the song "Cake by the Ocean." 
The song took over radios, hit the Billboard Hot 100 top 10 and had everyone singing along to the lyrics: "Let's lose our minds and go fucking crazy/ Ah ya ya ya ya I keep on hoping we'll eat cake by the ocean."
But, one question remained: Why would anyone eat cake by the ocean and what does it all really mean?
The lyrics may seem innocent enough on first listen, but the jam is actually filled with dirty innuendos. 
Joe Jonas spoke with MTV in 2015 and explained the lyrics to the band's song. According to Jonas, the song came about because the Swedish producers they were working with kept confusing the term "sex on the beach" with "cake by the ocean."
"That's how the song started," he revealed. "Then, it became this kind of lyrically wacky song, and it kind of embodies the band. It's funky, it's fresh, I think it's something that people can dance to."
For some people, this news came as a complete shock. Take Heidi Klum for example. In an interview with People at the 2016 Billboard Music Awards, it was revealed to the model what the lyrics actually meant and she was taken aback. "I will not tell my kids that," she said.  
Cake has never been the same since.