Bill O'Reilly by the numbers: 8 Stats to know about the fired Fox host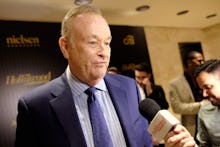 On Wednesday, parent company 21st Century Fox announced it had severed ties with Fox News' vaunted ratings cash cow, Bill O'Reilly, over several accusations of sexual assault. 
Shortly after news of his departure spread, the longtime host of The O'Reilly Factor continued to deny the allegations against him in a statement.
"It is tremendously disheartening that we part ways due to completely unfounded claims," O'Reilly said. "But that is the unfortunate reality many of us in the public eye must live with today."
Below is a by-the-numbers look at O'Reilly's legacy and scandalous finish at Fox News.
21
The number of years O'Reilly served as host of the O'Reilly Factor before his ousting.
5
The number of women who reportedly received payments for agreeing to drop charges and not speak publicly about the allegations against O'Reilly, according to the New York Times.
$13 million
The amount O'Reilly — and 21st Century Fox — allegedly paid to those five women in order to silence them, the New York Times reported.
$446 million
The amount of money the O'Reilly Factor generated in advertising revenue for Fox News between 2014 and 2016, according to research firm Kantar Media.
50
The number of advertisers that pulled their spots from O'Reilly's time slot after the sexual assault allegations became public.
2002
The year Fox News reportedly first learned of the allegations against O'Reilly, according to the New York Times.
3.9 million
Number of nightly viewers The O'Reilly Factor was pulling in on average, according to Nielsen. 
$20-25 million
The dollar amount — roughly equivalent to a year's salary — O'Reilly will reportedly receive in severance pay.