The secret to saving money and time — and preventing frustration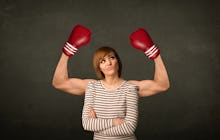 Have you ever found yourself in a "money maze"? Perhaps you've just discovered you've been overpaying for cable — or medical care — or maybe your cell phone service provider or airline is mistreating you. But when you call to complain, you're put on hold for hours listening to elevator music.
There's got to be a better way. Lucky for you, a new Payoff episode tackles consumer rights and how to fight back when you know you're being overcharged or otherwise treated poorly.
Co-host Chris Duffy helps make travel a breeze, whether by plane, train or bus, with five tips from the pros on saving time and preventing hiccups. And with the inside scoop on how to work through the most frustrating consumer situations, we have Lauren Lyons Cole of the Consumer Reports money team.
Finally, we have Payoff editor Susie Poppick on the show: She chats about the thousands of Americans who report being harassed over medical debt they don't even owe, and explains how she once found herself in a similar situation — and how she navigated her way out.
Do you have ideas for other money topics we should cover? Send us an email at PayoffPod@mic.com.
Subscribe to The Payoff on iTunes, Google Play, Spotify, Stitcher, iHeart Radio, tunein or wherever you listen to podcasts. Please rate and leave a review, and stay tuned for new episodes every other Wednesday!