CIA and FBI manhunt underway for "insider" who gave documents to WikiLeaks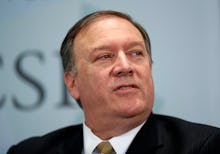 A manhunt is reportedly underway for a CIA insider who leaked classified material to WikiLeaks in what's being described as "one of the worst security breaches" in the agency's history, CBS News reported Wednesday.
The joint investigation between the CIA and FBI is centering on either a CIA employee or contractor who had physical access to the material.
The so-called "Vault 7" material — which was published by WikiLeaks in March — contained information about the CIA's "global covert hacking" program WikiLeaks says the agency used to "weaponize" iPhones and smart TVs.
WikiLeaks had said that it obtained the documents — which the CIA has not publicly verified — from former U.S. intelligence contractors.
Sources told CBS News that the leaked material was stored in a highly secure section of the agency, but that hundreds of people could have had access to it and the investigators were searching a list of names of those who had access.
CIA Director Mike Pompeo last week called WikiLeaks a "non-state hostile intelligence service often abetted by state actors like Russia." WikiLeaks founder Julian Assange responded by calling Pompeo "dangerous" and accusing him of trying to "stifle speech."