'Ink Master' season 9 introduces new cast and new 'Shop Wars' twist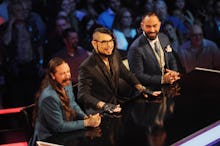 Ink Master is switching it up once again. The show's upcoming ninth season will not award the title of "Ink Master" to one lucky tattoo artist as it has in seasons past — instead, the Spike reality competition show will name a "Master Shop," according to a press release issued Thursday.
Artists normally compete against each other for a $100,000 grand prize. This time around, nine tattoo parlors from around the United States will send two of their top artists to compete in "Shop Wars." The contestants will battle in pairs for the title of "Master Shop" — and a whopping $200,000 grand prize.
Besides the "Master Shop" switch-up, the layout of the competition will remain the same. Contestants will be "tested on their technical skills, but also their on-the-spot creativity, as they must conceive and execute original tattoos on 'human canvases.'"
Dave Navarro returns as Ink Master host in season nine and will be joined by judges Chris Nuñez and Oliver Peck. But they'll be the only familiar faces: Season nine features a completely new cast of tattoo artists. Check out the shop and cast list below:
Allegory Arts (Florence, Alabama)
Ulyss Blair 
Eva Huber
Artistic Skin Designs (Indianapolis)
April Nicole
Dane Smith
Black Anchor Collective (Hesperia, California)
Carlos Rojas
Aric Taylor
Classic Trilogy Tattoo (Cortland, New York)
Thom Bulman
Derek Zielinski
Pinz and Needles (Baltimore)
Jessy Knuckles
Allisin Riot
The Marked Society Tattoo (McDonough, Georgia)
Wes Hogan
Mike P
Thicker Than Blood (White Plains, New York)
Jhon Campuzano
Babiery Hernandez
Tri-Cities Tattoo (Atlanta, Georgia)
Bang
Danger Dave
Unkindness Art (Richmond, Virginia)
Erin Chance
Doom Kitten
Season nine of Ink Master premieres June 6, but the new season is not the only exciting thing to look forward to. A one-hour special titled Ink Master Angels will bring back season eight alums Ryan Ashley, Kelly Doty, Nikki Simpson and Gia Rose. Ink Master Angels will see season eight's dominating female competitors return to go "head-to-head with some of America's most talented tattoo artists."
Mic has ongoing Ink Master coverage. Check out our main Ink Master hub here.