Millennials more open-minded than their elders on marijuana legalization, new poll finds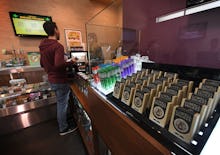 American opposition to legal pot is going up in smoke — and unsurprisingly, it's happening faster among the younger set, a SurveyMonkey poll finds just in time for 4/20.
Overall, SurveyMonkey found "barely one in five Americans" are against legalizing weed, "with the vast majority favoring either its full legal, recreational use (46%) or its use in medical treatment (34%)."
A special breakout of the data provided to Mic on Thursday shows millennials are higher (sorry) on the idea of legal pot in nearly every way.
Nearly 60% of millennials support legalizing marijuana for both recreational and medicinal purposes, a spokeswoman for the poll told Mic via email.
Many speak from knowledge: About 28% of millennials told SurveyMonkey they'd used pot within the last year. 
Just over half of millennials, 52%, said they'd tried weed at some point in their lives — three percentage points over the general population.
Similarly, more than half of millennials said they wouldn't be fazed if people used pot in public. And 73% of millennials said they wouldn't care if a marijuana business opened in their neighborhood. 
Both those millennial responses outstripped the overall SurveyMonkey sample, collected April 10 to 17, by 12 percentage points.
Lastly, millennials were likelier by a margin of 16 percentage points to say alcohol is more harmful than weed.