'Bosch' Season 3 Preview: For Harry Bosch, closure is still very much "a myth"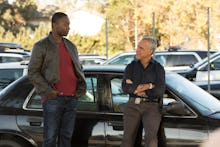 For those that are beginning to worry that the television season is winding down, leaving us with a dwindling list of compelling dramas, think again. Now streaming on Amazon Prime is the third season of Bosch, the critically lauded crime series based on the series of books by Michael Connelly. 
The series, which stars Titus Welliver as Harry Bosch, is coming off a near-universally acclaimed second season that saw the titular detective finally solve his most intimate case: The murder of his mother. Bosch's stellar second season certainly has fans of the series ready for more, and those that have not yet watched may want to consider jumping on board. 
James Wolcott of Vanity Fair described Bosch's second season as "a marvel of long-form plotting and execution, [it] is the only show I've watched this young year that delivers the sustained suspense, discovery, and enjoyment of the returning Better Call Saul and The Americans." And that is quite the praise. After all, there are only so many shows that you can put next to Better Call Saul and The Americans, without withering away in their shadow. 
Amazon is no doubt hoping that Bosch's third season can stand alongside its sophomore outing, and some compelling conflicts should help achieve that goal. Series star Welliver told Mic over email that just because Bosch solved his mother's murder, it does not mean the detective will begin the season in a great place.
"Though Bosch believes he has solved his mother's case, he is left empty and withdrawn," Welliver said. "His credo of 'closure is a myth' resonates more than ever, and he recedes more into the darkness." And while Bosch descends into that darkness, he will do so during a period where he may be struggling to repair a strained relationship with his partner Jerry Edgar, played by The Wire's Jamie Hector. 
"As an investigation unfolds [into] a serial killer's murder who Bosch has been pursuing, there are some indications that Harry may somehow have been involved," Welliver said. "This arouses suspicion with Edgar, which tests their relationship."
For more on Bosch's third season, here is the official synopsis:
In season three, based on Michael Connelly's best-selling novels 'The Black Echo' and 'A Darkness More than Night,' Bosch's teenage daughter, Maddie, has come to live with him and ushered into his personal life the everyday responsibilities of being a single father. Bosch remains a tenacious cop who struggles to attain justice in an imperfect system; a system in which the guilty sometimes go free, and marginalized and forgotten victims become anonymous statistics. 
If you have not kept up with Bosch, Amazon has made it fairly easy for you to catch up quickly. You can check out Amazon's extensive recap video and season three trailer, both of which are below:
Season three of Bosch is now available for Amazon Prime members. 
Mic has ongoing coverage of Amazon. Please follow our main Amazon hub here.