Tad Cummins Arrested: Latest updates on Tennessee teacher who disappeared with student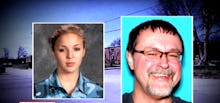 Fifty-year-old Tennessee teacher Tad Cummins has been arrested after disappearing on March 13 with 15-year-old student Elizabeth Thomas, according to reports.
The two were last spotted on March 15 at a Wal-Mart in Oklahoma City. Police issued warrants for Cummins' arrest for sexual contact with a minor and aggravated kidnapping. 
According to the Tennessean, Cummins and Thomas were found after Cummins' car was found in Siskiyou County, California, in the northern part of the state.  
Cummins left his wife a note before leaving, but officials believe it was a diversion meant to throw investigators off his trail.