LGBTQ centers face "horrifying and shocking" wave of attacks in Trump's America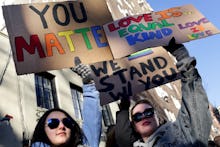 The bullet holes weren't what terrified Toby Jenkins. It was what happened after that shook him — and left Tulsa's LGBTQ residents searching for answers.
On March 6, at least one man in a pickup truck shot up the offices of Oklahomans for Equality, a community center which offers a safe haven for queer and trans people in a conservative state that's less than friendly to LGBTQ rights. The Dennis R. Neill Equality Center is hard to miss. Housed in a former torpedo factory, the two-story facility has a giant pride flag perched on top. The men fired on the building 13 times. The office administrator discovered the shattered glass the following morning, the center's doors and windows destroyed.
The employees, while shocked, didn't know what to make of the attack. Jenkins, who serves as the organization's executive director, wondered whether it was a hate crime or just "some hillbilly driving around shooting up windows," he said in an interview with Mic. Later that same day, he said it became clear "something was going on."
After the Center filed a police report later that day and posted about the incident on social media, a man in his late 40s or early 50s entered the building with a baseball cap pulled over his stringy, brown hair. Jenkins first noticed him when he strolled in with a grin on his face. Nothing about him looked particularly threatening — that is, until the man started harassing Jenkins and his coworkers. Jenkins, an Oklahoma native, was concerned that he might have a gun stuffed in his oversized shorts, which were a few sizes too big for him. 
"He told us that he was a veteran and that he regrets he fought for freedoms that protected us because he wished we all would die," Jenkins said. "That was horrifying and shocking."
In the past few months, LGBTQ centers across the U.S. have reported similar incidents of vandalism, harassment and even physical violence, a wave of attacks that advocates told Mic has resulted from comments Trump has made about minority communities. Reports suggest that these attacks coincide with reports of a spike in anti-LGBTQ hate crimes following the election of Donald Trump to the White House on Nov. 8.
Diverse and Resilient, an LGBTQ health center in Milwaukee, Wisconsin, had its doors and windows smashed in twice in December. Gerald Coon, the president and CEO, said in an interview that the organization "didn't want to paint it as anti-LGBT" because they weren't sure the motivation. But in February, vandals spray-painted anti-gay epithets outside its office doors. Just weeks later, the Los Angeles LGBT Center was graffitied with slurs targeting the transgender community, and a staff member at Washington D.C.'s Casa Ruby, a trans advocacy group, was attacked. It was the third time their building had been targeted in two weeks.
Similar incidents have been reported in Pennsylvania, Florida and New Jersey. Two LGBTQ centers in the Garden State, one of the nation's more socially progressive states, were targeted within days of each other.
"I heard a loud crash and looked up to see that two people had just kicked in the glass of our headquarters in Asbury Park," Christian Fuscarino, the executive director of Garden State Equality, said as he recounted an incident that took place on March 4.
"We have every reason to believe that it's a biased attack," he said in an interview. "We have about 25 panes of glass along the front of our offices, and they hit the glass exactly where the rainbow flag hangs."
ProPublica tracked the number of bias attacks on minority groups in the five months since Trump was elected as the 45th president of the United States. In that time, these groups estimate that there have been more than 1,400 recorded hate crimes in the U.S. Although specific data is not yet available for LGBTQ communities for this time period, queer and transgender people are more likely than members of any other population to be targeted for an identity-based bias attack.
For instance, at least eight transgender people have been killed in the first three months of 2017, despite accounting for less than 1% of the population.
The SPLC has argued there's a clear connection to the current occupant of the Oval Office: About one-fifth of those who perpetrated these crimes espoused sentiments in support of the president during the alleged attack. Washington, D.C., resident Robert Richard Brice Kohler was walking his dog on Feb. 1 when, according to police reports, four men repeatedly beat him in the face, two of whom were wearing "Make America Great Again" hats.
"This is what a Trump America looks like, faggot!" one of the assailants reportedly yelled.
"It does feel like that violence is escalating, and it feels like it is escalating because of the current climate right now," Emily Waters, the senior manager of National Research and Policy for the Anti-Violence Project, said in an interview. "These [attacks] are physical manifestations of visibility, resilience and the existence of these marginalized communities, and they are under attack for that exact reason."
"He emboldened people by telling them it's OK to think of Mexicans as 'criminals' and 'rapists,'" added Heidi Beirich of SPLC. "It's OK to think of Muslims as 'terrorists.'"
Trump has refrained from making similar comments about LGBTQ people, once referring to himself as a "friend to the gays." But Beirich, who serves as the director of SPLC's Intelligence Project, said that the president has surrounded himself with "rabidly anti-LGBT politicians."
During his tenure as the governor of Indiana, Vice President Mike Pence signed into law a "religious freedom" bill that advocates warned could allow businesses to refuse services to LGBTQ communities. (The state faced a lot of backlash and later issued a new version of the law.) Ken Blackwell, the head of domestic issues in Trump's transition team, is a senior fellow at the Family Research Council. Designated as an anti-LGBT hate group by the SPLC, that organization's website claims that homosexuality is "unhealthy and destructive to individual persons, families and society."
Tom Price, Trump's pick to head the Department of Health and Human Services, is a member of the Association of American Physicians and Surgeons, a right-wing organization that pushes anti-vaccination propaganda. The AAPS quarterly journal indicated that the "gay male lifestyle" reduces one's life expectancy and that the HIV virus doesn't cause AIDS.
"His entire administration is filled with people who push an anti-LGBT agenda," Beirich said. "I think he's making a very clear statement."
The president's press secretary, Sean Spicer, has denied any relationship between the current administration and an uptick in anti-LGBT attacks. "I think that that would be a stretch, to say the least," Spicer said during a press briefing in March.
Whether or not Trump has played a role in encouraging violence against LGBTQ communities, Beirich said the White House can play a role in halting this unfortunate trend — just as previous presidents have, by speaking out on attacks against other marginalized populations.
After the Sept. 11 attacks, hate crimes against Muslims across the country skyrocketed, with the Council on American-Islamic Relations reporting more than 300 instances of harassment and verbal abuse in the days following the attacks. In response to these incidents, President George W. Bush spoke out in a speech delivered just days after the tragedy. Bush called Islam a religion of "peace" and said that Muslims must be "treated with respect." Corey Saylor, the director of the Department to Monitor and Combat Islamophobia at CAIR, said in an interview that the effect of Bush's speech on decreasing violence against Muslims was "tangible."
After Trump was elected to the Oval Office in November 2016, hate crimes against the Muslim community have again increased. As Mic has previously reported, 35 mosques have been targeted so far in 2017, and Trump has yet to condemn these attacks.
"When politicians sanction discrimination or racism, we tend to see hate crimes go up, but public figures can also stop that pattern," Beirich said.
After weeks of silence on the numerous bomb threats reported by dozens of Jewish community centers in the U.S., Trump addressed the anti-Semitic attacks following a Feb. 21 tour of the National Museum of African American Museum and Culture. "The anti-Semitic threats targeting our Jewish community and community centers are horrible and are painful and a very sad reminder of the work that still must be done to root out hate and prejudice and evil," he said.
He has yet to comment on LGBTQ centers being targeted.
In the weeks since the offices for the Oklahomans for Equality were attacked, Jenkins said that there's been an outpouring of love from community members in Tulsa. The chief of police has visited numerous times, and the center held a rally to march to City Hall. The most passionate support, though, came from local Muslim and Jewish communities, who had experienced backlash prior to the March incident. The city's Islamic Society was vandalized with pork two years earlier.
"The Muslims were hugging us, and the Rabbis showed up with cakes," Jenkins said. "That's the way we do it in Oklahoma. We bring flowers and food whenever you face some kind of catastrophe. But the sad part is: We were just standing for those individuals, and now we're in the crosshairs."