This Auburn University student completely shut down white nationalist Richard Spencer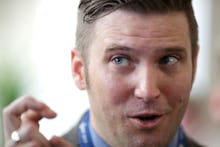 It takes about five seconds to punch Richard Spencer in the face, but a young black woman decided to take a slightly longer approach to take down the white nationalist while he spoke at Auburn University on Tuesday.
During the question-and-answer component at Spencer's speaking engagement at the university, the Auburn student asked Spencer what so-called challenges do white men like him face.
"How are white people more racially oppressed than black people?" she asked. "Because I'm a black woman at a predominantly white institution and I want to know what challenges y'all face that I don't?"
She was interrupted several times by white people in the crowd. One man behind her can be heard howling "affirmative action," but did not specify if he was implying that she was an affirmative action student or if white men are put at a disadvantage with the policy.
More than 100 students and faculty members demonstrated outside of the university's Foy Hall, where Spencer had his talk, CNN reported. Three people were arrested during the protest, and one Spencer supporter engaged in a fist fight with a protester. 
But while Spencer might have a knack for spouting inflammatory rhetoric, he can't hold his own in a fist fight, as the Auburn student mentioned in her follow-up question to a jeering crowd.
"And then another question," she said. "How did it feel when you got punched in the face at the inauguration?"
Mic drop.
You can watch the whole exchange below: