'Game of Thrones' Spoilers: Brienne and Tormund together in first season 7 photos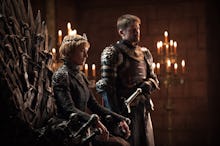 While fans impatiently wait for July to come around, HBO has temporarily quenched our endless thirst for all things Game of Thrones by releasing the first batch of photos for season seven. 
Though there's nothing completely revelatory about the photos — everyone's where you'd expect them to be, like Jaime and Cersei Lannister chilling in King's Landing next to the Iron Throne — we have to give special mention to Brienne of Tarth and Tormund Giantsbane photographed together. Arguably everyone's dream Westerosi couple goals, Tormund is giving her the same look most people will have when they see these brand new photos. In other words: He's quite excited. 
Brienne's reaction can't really be seen, but she hasn't reciprocated those very intense feelings in the past (sad!).
We'll leave a handful of our favorites from these season seven photos for you to check out below — the rest can be found here. Apologies in advance for my terrible captions. 
The seventh season of Game of Thrones premieres July 16 on HBO. 
Mic has ongoing Game of Thrones coverage. Follow our main Game of Thrones hub here.