The day of O'Reilly's firing, a Fox News host told his colleague she was arousing viewers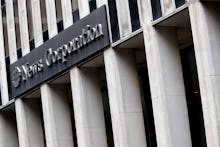 Fox News may have gotten rid of Bill O'Reilly, but his firing doesn't address its rampant culture of sexism on-air and behind the scenes.
That was made all the clearer on Wednesday — the same day as O'Reilly's firing — when The Five host Greg Gutfeld made a suggestive comment to his female colleague on live television. 
According to the Huffington Post, the show's panel was discussing immigration laws when co-hosts Bob Beckel and Kimberly Guilfoyle went off on a bizarre tangent about Beckel's remarks not being accepted as fact.
The exchange went as follows:
KG: Waah, waah, crybaby. Call your camp counselor.
At this point, Gutfelt interrupts to tell Guilfoyle, who had just gestured to her own dress, "You are giving America a raise."
The exchange once again demonstrated that the news outlet is keen on tolerating misogyny so long as it doesn't become a PR nightmare. 
Immediately following word of O'Reilly's departure, Fox executives announced Tucker Carlson would be taking over O'Reilly's prime-time spot. Naturally, just a quick glance at Carlson's own track record on women suggests he's not much better on-air than O'Reilly.
Most recently, Carlson sparked controversy when his interview with Teen Vogue editor Lauren Duca devolved into a sexist mess, involving Carlson dismissing Duca's pop culture writing and telling her to stick to writing about thigh-high boots.
No surprises here: At Fox News, misogyny begets misogyny.