Beyoncé won an award Bill O'Reilly lied about winning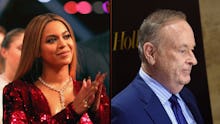 Beyoncé: 1, Bill O'Reilly: 0. 
Congratulations to Beyoncé, whose visual album Lemonade continues to earn awards more than a year after its release. Alongside television shows like Atlanta and Veep, Entertainment Weekly reported Thursday that Lemonade won a Peabody Award in the organization's entertainment category.
According to its website, the Peabody Awards recognize powerful storytelling. The 2017 awards were announced just one day after old footage circulated of Sen. Al Franken (D-Minn.) calling out Bill O'Reilly — who was fired from his Fox News gig Wednesday — for claiming to win a Peabody Award when, in fact, he never did. 
According to RawStory, Franken and O'Reilly appeared together on a panel during Franken's book tour for Lies and the Lying Liars Who Tell Them: A Fair and Balanced Look at Right. After Franken spoke about his book, in which he included O'Reilly's false claim about winning a Peabody, O'Reilly began to shout at him for what he insisted was a misunderstanding.
Earlier in the evening, O'Reilly had reportedly bragged about never having to retract a story. "See, this is why you don't retract things, you just continuously lie," Franken. 
O'Reilly yelled at Franken — which is not completely out of character for the former Fox News anchor — and told him to shut up. 
"Hey! Shut up!" O'Reilly yelled. "You had your 35 minutes, shut up! ... This guy accuses me of being a liar, ladies and gentlemen ... because I misspoke and called a Peabody a Polk," O'Reilly repeated, though it's safe to assume he meant that he called a Polk a Peabody. "This is what this guy does. He demonizes it and then other people pick it up. Now if it's important to you that I misspoke—"
The Polk Awards are journalism prizes given by Long Island University. 
"He didn't just misspeak," Franken said, implying O'Reilly knew what he was doing. 
The ultimate irony is that a Peabody-less O'Reilly once criticized Beyoncé for her music. In 2014, O'Reilly said Beyoncé didn't deserve to be recognized as part of the Time 100 because her music promoted "sex before marriage within the black community."  
"She knows — this woman knows — that young girls are getting pregnant in the African-American community," O'Reilly said, according to ThinkProgress. "Now it's about 70% out of wedlock. She knows and doesn't seem to care."
He added, "She should be smart enough to know that what's she doing now is harming some children." 
Aside from the irony of O'Reilly thinking he can take the moral high ground when it comes to women's sexuality, Beyoncé's Peabody win is even more poignant, given that Lemonade celebrates black womanhood. O'Reilly, on the other hand, has made a career of disparaging black women, which isn't exactly award-winning behavior.