Jeff Sessions described a judge in Hawaii as "a judge sitting on an island in the Pacific"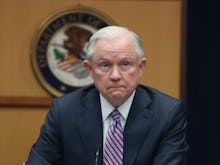 Hawaii became the 50th state in the Union on Aug. 21, 1959. 
But to Attorney General Jeff Sessions, the state is merely "an island in the Pacific."
Sessions made his jab at the state in an interview released Wednesday with conservative radio host Mark Levin, lamenting the fact that a federal judge in the state blocked President Donald Trump's travel ban in a scathing decision back in March.
"I really am amazed that a judge sitting on an island in the Pacific can issue an order that stops the president of the United States from what appears to be clearly his statutory and Constitutional power," Sessions said on Levin's show, according to CNN.
What Sessions is describing, however, is exactly the kind of power the Constitution grants District Judge Derrick Watson — the judge in Hawaii who blocked Trump's revised travel ban.
In blocking Trump's revised travel ban, Watson used comments Trump and his top campaign aides and surrogates said about banning Muslims from the United States to determine that the intent of Trump's ban on immigrants from six majority-Muslim countries violated the First Amendment.
Sessions, however, said Watson shouldn't have used Trump's own words to extrapolate the intent of the travel ban.
"The judges don't get to psychoanalyze the president to see if the order he issues is lawful," Sessions said. "It's either lawful or it's not."
Sen. Brian Schatz (D-Hawaii) called Sessions out for his comments.
"Mr. Attorney General: You voted for that judge. And that island is called Oahu. It's my home. Have some respect," Schatz tweeted.
Sen. Mazie Hirono (D-Hawaii) tweeted similar sentiments.
"Hey Jeff Sessions, this #IslandinthePacific has been the 50th state for going on 58 years. And we won't succumb to your dog whistle politics," Hirono said.
Twitter also dragged Sessions for trying to diminish Watson's power.
"Hi Hawaii, AG Jeff Sessions doesn't think much of you," tweeted CNN's Eric Bradner.
"States rights advocate Jeff Sessions dismisses Hawaii as 'an island in the Pacific,'" tweeted the Huffington Post's Igor Bobic.
"This is an extraordinary attack on a federal judge's right to do his job by a sitting AG," Matthew Miller, a former Justice Department aide in President Barack Obama's administration, tweeted. "Completely inappropriate."