Aaron Hernandez's brain will go to science after all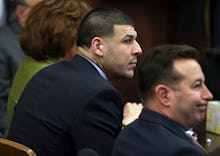 The family of Aaron Hernandez, the former NFL player who died at age 27 in an apparent suicide at a Massachusetts prison this week, will be able to donate his brain to science as they had planned, after a brief, high-profile back-and-forth with the medical examiner's office.
Hernandez's family had promised to turn his brain over to Boston University's CTE Center after his death, Reuters reported Thursday. The center studies the effects of chronic traumatic encephalopathy, a degenerative brain disease linked to repetitive brain trauma, that has been identified in some football players. But this week, according to a lawyer for the Hernandez family, the Massachusetts medical examiner's office briefly refused to hand Hernandez's brain over to researchers.
Lawyer Jose Baez, who represented Hernandez in a recent trial, told reporters that when someone from Boston University arrived to pick up Hernandez's brain, the chief medical examiner's office would not release it, Reuters reported.
"This is not amateur hour," Baez said. "I have serious questions as to their ability to conduct this study."
After Baez spoke out, the district attorney announced in a statement that it would release Hernandez's brain to the CTE Center now that his death has officially been ruled a suicide. 
CTE is associated with impulse-control problems, aggression, depression and dementia, among other symptoms, according to the Boston University CTE Center. 
Authorities say Hernandez died by hanging himself in his Massachusetts prison cell. He was serving a life sentence without the possibility of parole for the 2013 murder of Odin Lloyd.
April 20, 2017, 8:26 p.m.: This story has been updated.