'Mario Kart 8 Deluxe' Speed Trick: How to get pink and purple spark boosts while drifting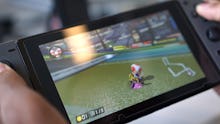 Mario Kart 8 Deluxe for the Nintendo Switch carries over one of the most core mechanics to the MK experience: drifting. While making a turn, racers can hit the jump button to turn sharp corners without losing their speed. Past games offered two levels of boosts obtainable after sliding out of a turn: blue sparks for a very small to negligible speed boost and orange sparks for a more sizable burst of speed. In Mario Kart 8 Deluxe, racers can now get familiar with the pink spark speed boost.
Mario Kart 8 Deluxe drifting: How to get purple sparks for an even bigger speed boost
Firehopping may have hopped on out of the game, but the new pink and purple drifting sparks give players more ways to gain speed.
Achieving pink sparks while you're drifting requires you to turn for a little more than three and a half second. After you're drifting long enough to obtain orange sparks, keep going and eventually, the pinkish purple-ish color coding will reveal itself.
It's not always viable to go for a pink drift. For the Mario Kart 8 speed trick to work, you'll have to be drifting for the right amount of time. Also, your character in MK8 will determine how much you'll benefit from the pink speed boost: heavy characters with more speed to achieve will benefit more than light characters already racing at their top speed. 
Most turns on the Mario Kart race track will be too short for your drift to reach purple level. But on one's that are extra long, make sure to hold down the R button and keep on sliding!
Check out more Mario Kart 8 Deluxe news, tips and tricks
If you're anxious to get racing in Mario Kart 8 Deluxe, check out our video gameplay of the first 20 minutes of the game and find out the 8 characters the game needs asap.  Learn how you can buy the game bundled with the console, including one bundle from Nintendo. Find out if we're expecting DLC and our initial impressions of the new console it's on from back in January. Or you can play Mario Kart 64 on a newer console instead, you're looking to fill that need of nostalgia. And when all else fails, back that thang up.