Paris shooter: Champs-Élysées gunfire leaves one police officer dead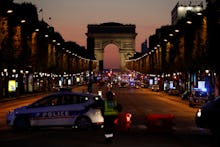 At least one police officer is dead and two others seriously wounded after a shooting on Champs-Élysées in Paris Thursday night, a French Ministry of Interior spokesman told Reuters. The attacker was reportedly killed at the scene. The outlet had previously reported that two officers had died, but later amended its coverage.
The spokesman, Pierre-Henry Brandet, said that the gunfire began when an assailant pulled up in a car, parked it in front of a police van on the heavily trafficked street and began firing rounds at officers with an "automatic weapon." 
Brandet told Reuters the "terrorist threat" in the country was high. The Associated Press reported the suspected attacker had previously been flagged as an extremist. A police spokesperson told the AP that the suspected attacker is believed to have been a 39-year-old man from "an eastern Paris suburb." His name has not yet been officially released.
The Champs-Élysées — one of the most famous avenues in the world — remained mostly empty Thursday evening as police worked to cordon off the area, CNN reported.
French prosecutors are currently investigating the shooting as an act of terrorism, the Associated Press reported.
The shooting comes just three days before France is due to hold its national election.
Marine Le Pen, a member of France's far-right National Front, appealed on Twitter for "emotion and solidarity for our security forces, again being targeted." A staunch isolationist, Le Pen has gained traction among the French electorate for her desire to secure France's borders.
During a joint news conference with Italian Prime Minister Paolo Gentiloni, U.S. President Donald Trump offered his condolences to France and said the shooting "looks like another terrorist attack," despite the fact that French authorities had yet to confirm that the incident was being investigated as such at the time.
The Islamic State group, also known as ISIS, reportedly claimed responsibility for Thursday's attack, ABC News reported, and called the as-yet-unidentified attacker "one of the fighters for the Islamic State." 
ISIS has used similar language in the past to claim responsibility for acts of violence. Although analysts have urged skepticism about those claims, suggesting that the terror group gains "propaganda points" by claiming responsibility even if it has not been in direct contact with attackers.
April 20, 2017, 8:15 p.m.: This story has been updated.