Sexual harassment has cost Fox News over $85 million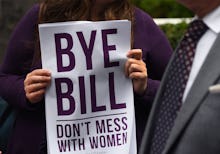 Tolerating toxic masculinity comes at a price.
The New York Times reported Thursday that conservative mouthpiece Bill O'Reilly will leave Fox News with a modest parting gift of up to $25 million — the equivalent of one year's salary.
But O'Reilly's payout is just a fraction of what 21st Century Fox, has spent on its sexual harassment scandals. According to the Times, Fox News has cost its parent company more than $85 million in sexual harassment-related payouts – with $65 million of that money going toward hefty severance checks like O'Reilly's.
Roger Ailes' severance, of course, makes up the larger chunk of those staggering numbers. 
Fox News executives paid the former CEO $40 million after he stepped down from his position in July amid accusations that he repeatedly sexually harassed female employees over his 20-year tenure.
Separately, 21st Century Fox made settlements with six of Ailes' accusers, including Gretchen Carlson, who received a $20 million settlement.
And lest we forget the $13 million Fox paid to five of O'Reilly's accusers, news of which sparked the backlash that eventually cost O'Reilly his job.
If women's safety and wellbeing isn't enough to take down sexual predators — maybe the promise of hemorrhaging millions is a better incentive.