'RuPaul's Drag Race' Episode 5 Recap: Who got sent home after the Kardashian challenge?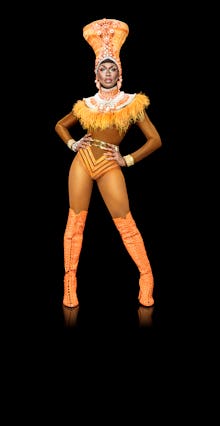 RuPaul's Drag Race's ninth season is doing a lot of things right, correcting a few glaring problems — a lack of drama, repetitive challenges — from the past few seasons in a smart way. However, the season's fifth episode is proof that, in solving these other issues, another problem has arisen: Drag Race is having trouble pacing itself.
The last episode had a complete lack of mini-challenges — previously a signature of basically every episode in a season — and a shortened runway show (To Logo's credit, they uploaded the full runway online). This episode does include a mini-challenge and edits the runway to be a little longer, if not quite its usual length. But including those requires cutting material elsewhere. The cuts make for a somewhat odd episode that feels rushed to its conclusion — and what a strange conclusion it is.
The queens are tasked with this season's variant of the lip sync extravaganza, called Kardashian: The Musical. It's exactly what it sounds like: a parody musical — pointedly written and directed by Todrick Hall, not Lucian Piane — that tells the history of the Kardashian-Jenner clan and sees the queens perform as Kim, Khloé, Kylie and more. 
Unlike seasons seven and eight, they're performing as one group instead of as teams against each other. (All Stars season two did the one team format for their lip sync challenge, though that offered the queens more solo opportunities than this does.) This makes teamwork a major part of the challenge that it wasn't before, and it dooms one queen from the start.
You see, Nina Bo'nina Brown had her heart set on playing Blac Chyna, the Kardashian-adjacent model who would deeply like to add the brand's name to hers. But as the winner of the mini-challenge — a selfie game that is mostly played for laughs — Alexis Michelle gets to assign the parts. She chooses Shea Couleé to play Blac Chyna instead, assigning Nina to play Khloé Kardashian.
Nina immediately assumes a defensive stance, pouting through work with Todrick in rehearsals and continually talking smack about Shea and not getting the role she wanted. It makes this season's early frontrunner look incredibly sour. Moreover, the idea that Alexis and the other girls were out to get her, which RuPaul calls a "conspiracy theory" on the runway, makes her look remarkably bitter.
Interestingly, even though she clearly hears Nina talking about it multiple times, we never get so much as a talking head from Shea reacting to this. Perhaps that's because winners need not respond to the haters, as Shea goes on to win her second main challenge in a row. As Blac Chyna, she delivers impressive dance moves, while her neon faux fur runway is a home run. Shea's quickly emerging as the favorite this season, capable of fire performances and turning out great runway looks. If she keeps it up, she'll coast to the top three.
Nina, on the other hand, falls into the bottom three for the first time this season, and it's seemingly based entirely on how poorly she behaved in rehearsal. Todrick, turning in his best performance as judge so far, seems angry with Nina, demanding to know why she was giving attitude. Ru also gets invested in figuring out what's wrong with the Atlanta queen, breaking her usual chilly hostess vibe to ask Nina if this is a recurring problem in her life.
When Nina breaks down, crying a single mascara tear, it's certainly a revealing moment. But as head judge Michelle Visage notes, this is the second time in two weeks Nina has brought the drama. Nina is an exciting competitor, one capable of killing it in the challenges while bringing some drama to the proceedings. But drama is not the same as mess, and currently she's serving a lot of mess. She needs to get it together if she wants to have a prayer of making it through this race.
Most of the narrative thrust is placed on Nina and Eureka O'Hara this episode, as Eureka's injury in the cheerleading challenge finally catches up to her and requires the use of crutches. Despite so much time spent on the two of them, neither ends up in the bottom or top two; Eureka is called safe after her performance as ethereal future spirit North West, while Nina is the last to be called safe. 
Alexis Michelle, meanwhile, earns major kudos for her Kris Jenner, but loses out on the win because of her too-basic runway. The rushed runway makes it hard to tell who nails and fails the challenge, but admittedly, hers does look a bit department store compared to the others.
Cynthia Lee Fontaine and Farrah Moan — who, yes, were easily the worst in the challenge as Kim and Kylie — fall into the bottom two. Despite their poor performances, this is a frustrating choice, as there's not a strong argument for keeping either, at least based on what we saw this episode. The lack of narrative heat is met with a lack of fire in the actual lip sync, too: Farrah is better, but not by much.
This is where the pacing problem catches up to Drag Race. Sure, the workroom conversations about eating disorders are powerful. Yes, the mini-challenge is fun. But the end result is that we have a bottom two with seemingly no overarching story purpose. Drag Race is not really a 60-minute show anymore; it needs a full hour and a half to get in everything and satisfy fans. VH1 might want to consider extending the episodes for season 10.
The storytelling seems even odder when, at the end of the lip sync, a crew member walks out and says something to Ru. The host excuses herself to have "a moment," then returns and announces she's made her decision.
In the end, Eureka's injury prevents her from continuing in the race, resulting in an untraditional departure. Both Cynthia and Farrah live to see another day, though their uninspired lip sync will clearly keep Ru's eye on both of them.
RuPaul's Drag Race returns Friday, April 28, at 8 p.m. Eastern on VH1 with the most anticipated episode of the season: Snatch Game.
Mic has ongoing RuPaul's Drag Race coverage. Follow our RuPaul's Drag Race main hub.