'Mario Kart 8 Deluxe' Amiibo Guide: Which new amiibo are supported by 'MK8' on Switch?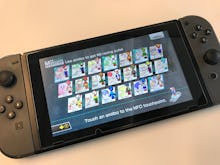 Mario Kart 8 Deluxe amiibo support on Nintendo Switch, for some, may be the most important feature of the game. While racing, the characters or the new battle mode may be crucial for some, others are wondering how the heck can they make use of all the $15 toys they've been collecting. If you have one or two of the NFC-enabled figurines, you're in luck: the Switch version of Mario Kart 8 will support 20 different amiibo. Without further ado, here are the amiibo Mario Kart 8 Deluxe supports.
Mario Kart 8 Deluxe amiibo guide: Which does the Switch game support?
Those familiar with amiibo support on the Wii U version of Mario Kart 8 can expect similar functionality here. Like the game before it, MK8 Deluxe unlocks outfits for Mii racers based on the amiibo used. Using a Link amiibo, for example, will give your Mii a Zelda-themed clothing option. Touching a Sonic amiibo to your system will offer your Mii an outfit based on the hedgehog, etc. Worth your $15? We'll let you be the judge.
The main differences between the Wii U version and Switch version of Mario Kart 8 is Splatoon amiibo support and Fox getting his last name on the menu screen. We know you've all been waiting. 
According to IGN and our review copy of the game, here's what amiibo you can look forward to using that were also compatible with the original Mario Kart 8:
Mario
Luigi
Peach
Yoshi
Donkey Kong
Link
Captain Falcon
Kirby
Samus Aran
Fox McCloud
Toad
Bowser
Wario
Rosalina
Captain Olimar
Villager
Mega Man
Pac-Man
Sonic
Toon Link
Additionally, Mario Kart 8 Deluxe is compatible with tons of new amiibo which you can check out on Nintendo's amiibo support website.
Check out more Mario Kart 8 Deluxe news, tips and tricks
If you're anxious to get racing in Mario Kart 8 Deluxe, check out our video gameplay of the first 20 minutes of the game and find out the characters the game needs ASAP. Learn how you can buy the game bundled with the console, including one bundle from Nintendo and see every level packed inside the game. Or play Mario Kart 64 on a newer console instead, if you're looking for a nostalgia fix.