Trump called Pavarotti a "good friend." Pavarotti's widow sang a different tune.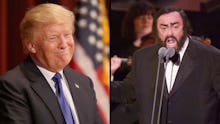 During a joint press conference with the Prime Minister of Italy on Thursday, President Donald Trump praised late Italian opera singer Luciano Pavarotti and called him a "good friend of mine." But there's reason to doubt that alleged friendship.
Trump had taken to playing Pavarotti's rendition of "Nessun Dorma," a song from the final act of Puccini's famous opera Turandot, at stops along the campaign trail. The song ends with a repetition of the Italian word "Vincero," which translates to "I will win." 
During the campaign, Pavarotti's widow, Nicoletta Mantovani, demanded that then-candidate Trump stop playing the works of her late husband at his campaign events.
In a letter from Pavarotti's widow and his three daughters the family told the Trump campaign that, "[T]he values of brotherhood and solidarity that Luciano Pavarotti upheld throughout his artistic career are incompatible with the world vision of the candidate Donald Trump."
There are other reasons to doubt the supposed friendship between Pavarotti and Trump. One account from a 2002 report in the Guardian claims that Pavarotti once gave such a lackluster performance at one of Trump's Atlantic City casinos that Trump demanded Pavarotti return his fee for the event.