2 police officers shot while responding to robbery in Downtown Seattle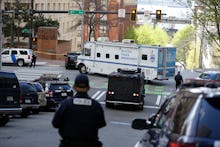 Two Seattle police officers were shot while responding to a robbery in Downtown Seattle on Thursday, ABC News reported. Both officers were taken to a nearby hospital.
Police were reportedly responding to the scene of a robbery at a Seattle 7-Eleven, local outlet KOMO reported on Thursday. Police identified three suspects, according to ABC News.
One of the suspects reportedly fired at the officers. ABC News reported that one suspect was taken into custody and another suffered what Seattle police described in a tweet as "significant injuries." Police are still searching for a third suspect, ABC News reported.
One of the officers was reportedly shot in the chest, which was protected by a vest, and suffered minor injuries, ABC News reported. The other officer was reportedly shot in the chin and rib cage.