UC Berkeley reverses decision to cancel Ann Coulter event on campus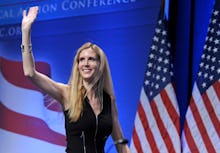 Just one day after announcing they would not allow controversial conservative author Ann Coulter to speak on campus because of safety concerns, officials at the University of California at Berkeley reportedly said on Thursday the school was reversing its decision, and they had found a venue where Coulter could speak, the Washington Post reported.
Berkeley administrators had told the Berkeley College Republicans, the group  sponsoring the planned event, that they were "unable to find a safe and suitable venue for your planned April 27 event featuring Ann Coulter," the New York Times reported on Wednesday. 
In the same letter, administrators reportedly told the student group it was "not possible to assure that the event could be held successfully — or that the safety of Ms. Coulter, the event sponsors, audience and bystanders could be adequately protected."
Coulter had said that she planned to give the scheduled speech despite the university's decision to cancel. But on Thursday the university appeared to reverse its decision, and officials reportedly said they found a venue where Coulter could speak on May 2, instead of on April 27 as had been originally planned. 
The Post reported the school also planned to impose conditions on the events but the college Republican group said they would reject them, according to a representative of the student group.
And Coulter it seems, does not plan on cooperating with the university's latest decision. In an email Thursday she accused the school of imposing an "unreasonable (and expensive!) condition on my exercise of a constitutionally protected right" and said "My speech is April 27."