A US air marshal accidentally left her loaded gun in the plane's bathroom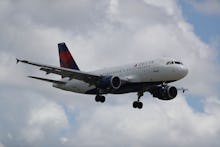 A U.S. air marshal left her loaded gun in the bathroom of a recent flight from Manchester, U.K., to New York City, the New York Times reported Thursday. A passenger reportedly found the gun and handed it over to a member of the flight crew, who returned it to the marshal.
The incident reportedly happened aboard an April 6 Delta flight, but the marshal involved reportedly failed to report it to her superiors until days later, according to the Times. One former air marshal explained to the Times that leaving a loaded weapon in an airplane bathroom is a serious lapse.
"You can't have inept people leaving weapons in a lavatory," Craig Sawyer, a former air marshal, told the Times. "If someone with ill intent gets hold of that weapon on an aircraft, they are now armed."
But this isn't the first story of an official losing their weapon — in 2015, a federal air marshal left his gun in a bathroom stall at Newark Liberty International Airport, where it was later discovered by a janitor. 
And there have been other embarrassing incidents for the marshal program, which is a part of the TSA: In 2012, eight air marshals were fired after they were caught drinking together at a restaurant while on duty, and in 2006, a U.S. air marshal removed himself from a Southwest Airlines flight after he dropped a clip of bullets on the floor.
In this recent case, the air marshal who left her gun in the airplane bathroom was reportedly assigned to another flight just a few days after the incident, the Times reported.