Paris Shooting Update: What we know about suspected shooter in terrorist attack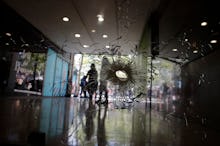 Paris is still reeling Friday after a gunman opened fire on Champs-Élysées Thursday, killing one police officer and wounding two others, in what officials are calling a likely terrorist attack.
The suspect, whose identity has not been revealed, was killed at the scene.
In response to the latest attack on French soil, the country's far-right presidential candidate Marine Le Pen is calling for France to immediately restore its borders and end its participation in Europe's passport-free Schengen agreement, according to the Associated Press.
In a statement, the anti-immigration candidate indicated that "she wants foreigners signaled as Islamic radicals to be expelled from the country and French nationals identified for the same reason to face trial."
Here's the latest on the investigation and what is known about the suspected shooter.
The suspect was known to police
The suspected 39-year-old shooter was detained by authorities as recently as February for threatening police officers, according to the AP.
CNN reports that the man shot two police officers in 2001 after being pulled over. While in custody, the man grabbed one of the officers' guns and opened fire. He was convicted in the shooting.
The man also had a criminal record stemming from involvement in violent robberies.
He was under surveillance by French authorities 
According to CNN, the suspect, who is a French national, was under "Fiche S" surveillance. The French domestic security agency DGSI was also watching the suspect.
The shooter's identity is to be made public at a Friday press conference, according to Paris prosecutor Francois Molins.