Arkansas Execution: How Ledell Lee's case made it all the way to the Supreme Court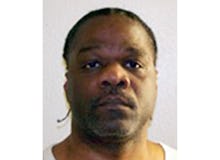 The United States Supreme Court on Thursday allowed Arkansas to put prisoner Ledell Lee to death in the state's first execution in 12 years.
Lee, who was convicted and sentenced to death in the killing of Debra Reese in 1993, was administered a lethal injection at 11:44 p.m. and died a little more than 10 minutes later, just before midnight, after the Supreme Court voted 5-4 to allow the state to follow through with the execution.
Arkansas Gov. Asa Hutchinson had originally set out a plan to execute eight prisoners before the state's batch of the lethal injection drug, midazolam, expires at the end of April.
But critics said that the state was moving too quickly with its executions, and three were blocked from proceeding heading into Thursday. Another execution scheduled for Thursday — of Stacey Johnson — was halted by the Arkansas Supreme Court to allow for advanced DNA tests Johnson says would prove he did not murder Carol Heath in 1993. 
Lee, too, has maintained his innocence in the more than two decades since the killing that landed him on death row. 
Lee maintained innocence in brutal 1993 murder
On Feb. 9, 1993, Lee's neighbor, the 26-year-old Reese, was found sexually assaulted and bludgeoned to death with a tire thumper. Witnesses said they'd seen Lee walking down Reese's street, and he was arrested an hour later. 
Lee would eventually be convicted for the rape of two other women and accused of raping and killing 22-year-old Christine Lewis. That case resulted in a hung jury and was dropped after Lee was sentenced to death in 1995 for the murder of Reese. That sentence was upheld in 1997.
But Lee's lawyer admitted to being drunk during the prisoner's post-conviction trials. The lawyer was so impaired he couldn't locate the witness room, mistakenly submitted the same evidence "over and over again," was unfamiliar with his own witnesses and was at times incoherent. 
Lee Short, Lee's current lawyer, said that the inmate's trials might have gone differently had his lawyer not been impaired. 
The American Civil Liberties Union and the Innocence Project, who represented Lee, pushed for new DNA testing on the grounds that the testing used when Lee was convicted was less sophisticated and has been discredited. The ACLU also argued that the court was never given the opportunity to consider an intellectual disability they say Lee had due to fetal alcohol syndrome.
But after nearly blocking the execution, the New York Times reports, the U.S. Supreme Court decided to allow Arkansas to proceed late Thursday.
Gorsuch part of majority allowing Lee execution
The recently confirmed Neil Gorsuch, who was appointed by President Donald Trump, was part of the majority allowing the execution to proceed.
The majority did not offer an explanation, but Justice Stephen Breyer wrote in the dissent that executing Lee because the state's lethal injection drugs were set to expire was arbitrary.
"In my view, that factor, when considered as a determining factor separating those who live from those who die, is close to random," Breyer wrote. "I have previously noted the arbitrariness with which executions are carried out in this country. The cases now before us reinforce that point."
Lee requested holy communion for his last meal and did not give a final statement. 
Midazolam, a common sedative, has since 2013 been used to put prisoners to sleep before the deadly drugs are administered. While most of the executions that have used it have gone according to plan, there have been instances in which it apparently did not adequately sedate prisoners and they seemed to have been in pain as they died.
Lee did not appear to be in pain as he was executed, according to the Times, and was pronounced dead at 11:56 p.m. He was 51.
"Arkansas's decision to rush through the execution of Mr. Lee just because its supply of lethal drugs are expiring at the end of the month denied him the opportunity to conduct DNA testing that could have proven his innocence," Nina Morrison, one of Lee's lawyers, said in a statement. "While reasonable people can disagree on whether death is an appropriate form of punishment, no one should be executed when there is a possibility that person is innocent."