Ameriie's "Why Don't We Fall in Love" turns 15: An oral history of the summer R&B anthem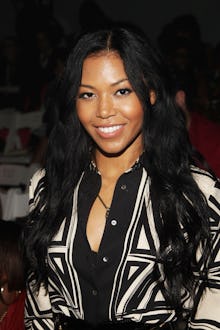 It's the first day of summer. A man walks down the steps of a Brooklyn brownstone, carrying a portable boombox reminiscent of Radio Raheem in Spike Lee's Do The Right Thing. He pops in a cassette tape and Ameriie's "Why Don't We Fall in Love" begins to play. The carefree singer emerges from her home rocking short shorts. She struts down the tree-lined block and waves to her neighbors. Sun rays beam on her brown skin as she smiles and heads to a nearby park. 
On Saturday, Ameriie's dreamy ode to leaping into romantic abyss turns 15 years old. In its two minutes and 39 seconds of glory, it launched her career and became an essential R&B summer anthem. The song and its video, a collection of vignettes showing summer magic, has stuck to the minds of Generation X and Millennial R&B fans. In turn, the rising temperature has also meant one thing since spring 2002: "It's finally Ameriie weather." 
"It was one of those records where you made your face like, 'Ooh. This is something different,'" former Billboard rap editor Rashaun Hall told Mic. "The combination of that beat and her voice — it was the perfect summer song," he continued.
But initially, Ameriie didn't see "Why Don't We Fall in Love" as the light warm weather track dear to her fan's hearts.
"When I was recording the song, it felt — whenever I'm singing or creating music, I see little images or colors. So to me that song is dark red and black. It's interesting that it's become the summer anthem because it was so dark to me at the time. But then later I could see why it felt so summery," Ameriie told Mic.
"Why Don't We Fall in Love" kicks off with a chirpy sample from "Condor! (Theme)/I've Got You Where I Want You" and builds up with a gritty bass slapping sound. Both graceful and aggressive energies find harmony here. Ameriie's soft and raspy vocals then enter the track. She makes her proposal for love with longing lyrics. "So many things I'm going through, so much that I wanna do/ Starting to become so clear to me, tomorrow ain't really guaranteed," she sings. 
"It was very aggressive. There are darker elements [in the song], which is like summer. It's like a blue sky and thunderstorm mash-up — something," she added.
Rich Harrison is the musical mind behind Ameriie's introduction. After Harrison made early records with Mary J. Blige ("Beautiful Ones" and "In the Meantime"), and before he produced hits for Beyoncé ("Crazy in Love" and "Freakum Dress"), he wrote and produced Ameriie's breakout record and debut album, All I Have. The songbird met Harrison when she was a senior at Georgetown University. Ameriie said the track is one of many demos they recorded before picking it as a single. Much of the output during these sessions became her first opus and led to her signing with Columbia.
"We just had a whole flow going. We weren't really dissecting anything beforehand," the singer remembers. "We were throwing ourselves into the creative process and we didn't really wonder what we thought of anything until we were finished."
When it was time to roll out her music, Ameriie said her label wanted her song "Talkin' to Me" to be the first single. But Harrison and the singer believed that "Why Don't We Fall in Love" would be the best song to debut. 
"'Why Don't We Fall in Love' wasn't a full song," says Ameriie. "And it was a little unorthodox in that it doesn't have a bridge and that it is so short, but I didn't really care. To me, it was just like, 'What's the best introduction? What's the best first step?'"
Trusting their instincts led to a memorable top 40 single. "Why Don't We Fall in Love" went on to chart at No. 23 on the Billboard Hot 100 and No. 9 on the Hot R&B/Hip-Hop charts. 
Ameriie kept her image a mystery when she first sent the song out to DJs and radio stations. She wanted listeners to focus on the music alone. The first version of the CD released had a red label and a red sleeve, according to the singer.  
"If you would've left it up to me, I probably would've stayed like that the whole time," she said. "I was fine with that. They were like 'No, you do need to put your face out there.' I was like 'Okay,'" she laughed.
Had Ameriie chosen to hide behind her music, we may not have received the "Why Don't We Fall in Love" music video, which is a part of what gives the song its summertime anthem acclaim. "The shoot was just like how the video looks. It was very springtime going into summer. Everybody had such a great vibe," she said. 
Ameriie recalled a fun moment in the video, in which she attempts to take a basketball away from a kid who was dribbling as she walked by. 
That was an impromptu moment. That's because I love basketball so much. ... Like anytime I would see someone playing basketball, I would have to try to play, put some defense, shoot some hoop. I used to play basketball in school. In my mind, I was like Michael Jordan. But in reality, it was not that great. But I was really good on defense. 
R&B singer Carl Thomas also made a surprise cameo at the shoot. Ameriie said this was a full circle moment, as Thomas' Emotional was a huge influence on her work. 
"I was listening to a lot of Carl Thomas when this first album came out. His first album is a classic. And to have him there at my video shoot, I was like 'What? This is amazing.'" She also cited Mary J. Blige's My Life album as "very influential" to her beginnings. 
In the video, love is a strong theme, as clips of couples showing each other affection are sprinkled throughout. Some commenters on the YouTube page for the "Why Don't We Fall in Love" video write that love-centered grooves and visuals like this aren't being offered in popular music like back in the day. But Ameriie doesn't believe the love has disappeared from music.
"I think the music industry or a lot of artists tend to go through phases. You'll have a lot of love songs, then it'll switch up and you'll have more lust and sex-based [music] and then it'll swing back again."
She mentioned Drake as an example of an artist who successfully keeps relationships at the center of his music. 
"I think that's a reason why a lot of people like Drake's songs. Because Drake does talk about relationships. I think when his first song came out that everyone knew of — the song that went on everyone's radar "Best I Ever Had" — I think that's why people really connected with that a lot." 
Ameriie says she is also switching up topics on her next release, a follow-up to her 2016 Drive EP. "On the project I'm working on now, I don't really talk too much about relationships. Some [songs are], but I like to tell different kinds of stories."
In the years since her debut, Ameriie put out her biggest mainstream hit, "One Thing," in 2005. She also released three subsequent studio albums and has sung features for Nas and LL Cool J. Presently, she's been flexing another creative muscle as an author, editor and "BookTuber," a YouTube user who reviews books. "I kind of felt like I found my tribe," she said of the online community. In July, she is releasing her first book, Because You Love to Hate Me: 13 Tales of Villainy, an anthology of fairy tales told from a villain's perspective. 
Even with the success that followed in her career, the moment Ameriie and Harrison created with "Why Don't We Fall in Love" will always be a strong stand out. The collaboration was perfect timing. Year after year, many summer songs fade away after the season dies down. But this track outlives the era when Ameriie rose to fame. In 2017, this song still gives R&B fans an immediate escape to those feel-good warmer days. Because of this, Ameriie is one of the precious few artists who can claim the sound and feel of summer for years to come.
Mic has ongoing music coverage. Please follow our music hub here.