Kendrick Lamar responds to rumors of "more music" following 'Damn.' Here's what we know.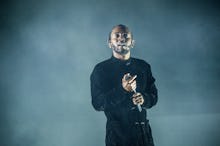 Update: Kendrick Lamar has put the rumors about him releasing another album to rest in a rare lengthy tweet Friday afternoon.
Lamar also laughed off the fan made theory about that there was going to be second part to Damn., during his interview with Zane Lowe on Apple Beats 1. 
"It's some things on that album, but it ain't that one," Lamar said.
Mic's original story appears below.
Kendrick Lamar may be delivering more music in 2017, following the release of his latest album, Damn., last Friday.  
Kung Fu Kenny held an album signing event in his hometown of Compton, California, on Thursday, and paused for a brief moment to shout out his fans watching via Instagram Live. He then made this announcement: "My kinfolk family, my kinfolk clan, y'all take care. Continue to bang this. I got some more music." 
Lamar doesn't offer anymore information after this. The news could mean many things: a new song, a new album, a new mixtape. There is also a possibility that the rapper won't put any music out in the near future. 
Following the release of Damn., fans hoped K-Dot would release a second part to the album, and developed theories that suggested it would land on Easter Sunday. But that day came and there was no new album to be found.
One thing is for sure, based on the rollout of Damn. and the surprise releases of "The Heart Part 4" and "Humble": Lamar can put out "more music" at any given moment. We'll just have to wait and see how he'll choose to let it unfold.
April 21, 2017, 3:03 p.m.: This story has been updated.
Mic has ongoing Kendrick Lamar coverage. Please follow our main Kendrick Lamar hub here.