'Call the Midwife' Season 6, Episode 4 Preview: Is Shelagh's pregnancy in danger?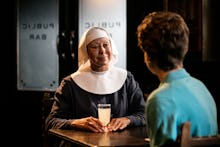 The good news? Sister Ursula's reign of semi-terror at Nonnatus House is over. The bad news? Things are still dreary back in 1962 Poplar, so despite Sister Julienne's return as the nun in charge, the nurse-midwives continue to have their hands full in the next episode of Call the Midwife, which airs on Sunday at 8 p.m. Eastern on PBS.
Between Sister Ursula's departure, Nurse Patsy Mount's sabbatical and Sister Mary Cynthia's medical leave for mental health treatment, Nonnatus House finds itself terribly short-staffed. Fortunately, as you can see in the preview clip below, Sister Julienne announces that a new midwife is on her way. Viewers will be pleased to learn it turns out to be local barmaid and ex-army nurse Valerie Dyer, who proved herself indispensable during a dock explosion two episodes ago.
The extra help arrives not a moment too soon. The preview clip also hints that all may not be going well with Nurse Shelagh Turner's pregnancy, which puts her out of commission for the time being.
As for the main story of the week, Nurse Trixie Franklin cares for an impoverished mother who has a third baby on the way. Since she's struggling to provide for the two children she already has, her wealthy (and barren) cousin makes her an incredibly tempting offer.
Read on for PBS' official synopsis for episode four:
An expectant mother buckles under the strains of pregnancy. As Tom provides pastoral care, he reveals why this case has touched him more than most.
Check out the preview clip below:
Call the Midwife airs Sundays at 8 p.m Eastern on PBS.
Mic has ongoing TV coverage. Please follow our main TV hub here.