'Hollywood Reporter' tried to write about Sarah Palin's fashion. It didn't go over well.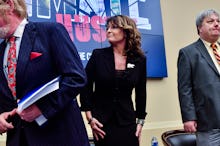 It makes sense to people to write about what Melania Trump wears, given that she's the first lady. The same goes for Michelle Obama and Hillary Clinton, now both former first ladies and women in the public eye. 
But Sarah Palin? Well, to many, that's just a whole other story. 
That became evident when the Hollywood Reporter's style site, Pret-a-Reporter, wrote an article about what Palin wore while in attendance at the White House on Wednesday. You know, like what she wore while standing behind President Donald Trump at his desk with Ted Nugent and Kid Rock...
... and what she wore while teasingly posing in front of Hillary Clinton's portrait at the White House. 
Given just how much press attention was on this highly strange visit, maybe Hollywood Reporter thought it was normal to single out Palin and write about what she's wearing: an off-the-shoulder white lace top and black skirt. 
"Who can forget Sarah Palin the style icon, who lit up the 2008 campaign trail with her pricey designer duds, Naughty Monkey shoes and those rimless Kawasaki glasses?" Hollywood Reporter asked. "Nine years later, the former governor of Alaska has still got it. Palin, 53, was spotted at the White House on Wednesday evening in a lacy white off-the-shoulder top — a look that's still going strong as one of the hottest spring trends, according to nearly every fashion outlet." 
But when the Pret-a-Reporter Twitter account posted about the article, people were less than pleased with the description of Palin's outfit as the "hottest summer trend."
Now, let's be honest. Palin is not doing anything extraordinary or noteworthy with her fashion here. More than anything, the article came off as unnecessary. 
On top of that, it seems possible the Hollywood Reporter knew there would be outrage, because the article itself doesn't name an author.
Writing about political women and what they wear is already a touchy subject, so trying to write an earnest article about a female political figure who's wearing nothing with any deeper meaning, all in the name of clicks, was understandably off-putting. 
Mic has reached out to the Hollywood Reporter for comment.