The top 10 TV shows based on DC Comics, ranked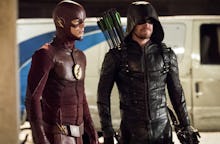 If you are a fan of both comic books and television, you may right now be living in a state of bliss. The popularity of comic book adaptations appears to be continuously on the rise, and 2017 alone will see five feature films — Guardians of the Galaxy Vol. 2, Wonder Woman, Spider-Man: Homecoming, Thor: Ragnarok and Justice League — set within the DC or Marvel Cinematic Universes. The television side may be just as strong. 
Between Marvel and DC, there are frankly too many ongoing series to count — with several more on the way over the next few years. The two comic giants are doing things a bit differently with their television properties. For Marvel, essentially every live-action television show exists within its cinematic universe. DC has simplified things by having its television series exist separate from its ongoing cinematic universe. 
By separating the television and film properties, DC has allowed itself a bit more flexibility with its characters. This also enables the company to have television versions of the Flash, Superman and Bruce Wayne (among others) exist alongside those same characters in film. And hey, while we are on the topic of DC Comics in television (yea, I know I brought it up), let's try and rank the top ongoing series. 
(Editor's Note: Minor spoiler's ahead for each of the following DC television series.)
1. The Flash — The CW
Though the CW's Arrowverse began with Arrow (hence the name), it is The Flash that has run (ha!) to the head of the pack. The Flash mixes just the right amount of humor, action and comic book campiness to give fans of all genres something to enjoy. And while the drama can sometimes fall into soapy territory, for the most part this never takes away from the series' enjoyment — for some it may even add to it.
Part of what makes The Flash such a popular comic book series is the cast, especially series star Grant Gustin. Gustin has been so well-received as the fastest man alive that, when a film featuring the Flash was announced, there was a strong cohort of fans noticeably upset when he was not cast — the role ended up going to Ezra Miller. 
Still, Gustin can rest easy knowing he stars on the best DC television series currently on the air. 
2. Preacher — AMC
Casual fans of comic books may not even be aware that there is a Preacher television series, and if they are, may not realize that it is based on a the character of the same name from DC's Vertigo imprint. But a Preacher series does exist, and it is actually really good. 
The series, which is produced by Seth Rogen, is definitely not for the faint of heart. But for those that can get over gore, or happen to just enjoy it, Preacher is one of the best — and funnier — comic book series currently on the air. And if you have not yet watched Preacher, you should try and catch up soon, because season two is right around the corner. 
3. Young Justice — Cartoon Network
I will admit, this next show includes some finessing of the definition "ongoing series." And it is true that Young Justice has not aired an original episode since 2013. But the series was recently renewed for a third season, after gaining somewhat of a cult status on Netflix. So I'm counting it as ongoing. 
That cult status is very much deserved, as Young Justice stands alongside Batman: The Animated Series and Justice League as one of the best animated comic book series ever made. Part of what makes Young Justice unique among animated series primarily geared towards adolescents, is that it never shied away from mature storylines. 
It is not yet known whether Young Justice will return to Cartoon Network, make a home on Netflix or air on an entirely different network. But what I do know, is that when it does return, I'll be watching. 
4. Supergirl — The CW
Now in its second season, Supergirl has really begun to hit its stride. Though the series had its moments during its freshman run on CBS, the move to the CW has worked out well for the Girl of Steel. Supergirl has been one of the more progressive shows on network television, with season two featuring a coming out story for Alex Danvers, who eventually begins a relationship with Maggie Sawyer. 
Of course, Supergirl flies high as one of the best comic-book series on television because of its lead Melissa Benoist, whose charming portrayal of Kara is always a pleasure to watch. 
5. Legends of Tomorrow — The CW
Just last year, ranking Legends of Tomorrow in the top five of DC television series would seem like blasphemy. The time travel series had a rough time in its first season proving that it deserved to even exist. But Legends of Tomorrow dramatically improved in season two, partly due to the introduction of a compelling set of villains in the Legion of Doom. 
While Legends of Tomorrow still features a ridiculously convoluted plot, with more holes than Swiss cheese, the chemistry between the Legends and the addition of a strong set of villains has more than made up for that flaw. Hopefully, when Legends of Tomorrow returns for its third season, the series will be able to keep up the momentum. 
6. Arrow — The CW
Part of me feels bad having Arrow more than halfway down this list. After all, the series has very much improved after its very lackluster fourth season. Unfortunately, the series still lags behind its Arrowverse counterparts — though the gap is closing. And that gap is closing largely because season five has brought Oliver Queen face-to-face with perhaps the series' strongest villain yet: Prometheus. 
With only several episodes remaining in the series' resurgent fifth season, there is still plenty to look forward to, including more than one returning character. Further, with the flashbacks set to end at the end of this year, and Katie Cassidy's Black Siren confirmed to return as a series regular in season six, there is reason to be optimistic for Arrow's future. 
7. Gotham — Fox
Among fans of comics, Gotham is likely a bit of an acquired taste. The series has had the difficult task of succeeding in the Batman universe, without actually featuring the Dark Knight himself. Instead, Gotham primarily focuses on a much less weathered Jim Gordon, and the emerging villains who will one day take on the Caped Crusader. 
Of course, while Batman does not appear in Gotham, Bruce Wayne does. And as we near the return of season three, we also come closer to the young billionaire's eventual transition into the Bat. The bottom line with Gotham is if you make peace with the fact that it plays fast and loose with the Batman canon, it is actually quite an enjoyable show. 
8. iZombie — The CW
iZombie is another series that fans may not realize is based on a property owned by DC Comics. But like Preacher, it comes from DC's Vertigo imprint. The CW's series stars Rose McIver as Liv Moore, a zombie who has to consume brains to prevent her from going, well, full-fledged zombie. Luckily, she works in the coroner's office, which has a stacked menu. 
iZombie is actually quite a good show, but it does have a hard time separating itself from the pack of crime-based procedurals. Still, it is definitely worth a watch, especially if you are looking to further satisfy your appetite for comic-book-based television series. 
9. Powerless — NBC
Unlike every other live action series on this list, Powerless is not a drama. Rather, the NBC series is the first sitcom set within the DC universe. This fact alone makes it an intriguing watch. But Powerless has had some trouble attracting a committed audience. Still, for what it is, it can be quite a funny series. 
The most recent episodes, in particular, have taken full advantage of the universe in which it exists, and has even poked fun at some lesser known heroes and villains. And Powerless does feature a rather charming cast, led by Vanessa Hudgens, who is definitely beginning to come into her own as a comedic talent. The question will be whether the series is given another year to grow. 
10. Lucifer — Fox
Lucifer is yet another series on the air that is based on a comic from DC's Vertigo imprint. But saying Lucifer is based on the comic book series of the same name is fairly misleading. The fact is that Lucifer is not very much at all like the comic series from which it derives its name. 
Still, Lucifer can be an enjoyable, though rather straightforward, police procedural. And it would be unfair not to at least note that the series has dramatically improved in its second season and has been renewed for a third. So who knows, maybe it will move up this list next year. Though with the competition set to grow, I wouldn't bet on it. 
Mic has ongoing coverage of DC Comics. Please follow our main DC Comics hub here.