Donald Trump says protesters at his rallies violate his First Amendment rights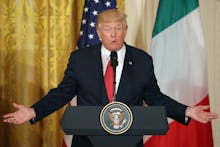 Lawyers for President Donald Trump on Thursday filed a motion in court that claims anti-Trump protesters during the presidential campaign had "no right" to demonstrate, arguing that protesters who did so violated Trump's First Amendment rights.
The filing stems from a lawsuit from three anti-Trump protesters, who said they were injured by Trump supporters at a Louisville, Kentucky, campaign rally in March 2016, after Trump instructed the crowd to "get 'em out of here!"
A federal judge ruled earlier this month that the lawsuit could proceed, ruling that there is evidence suggesting the protesters' injuries were a "direct and proximate result" of Trump's words.
"It is plausible that Trump's direction to 'get 'em out of here' advocated the use of force," Judge David J. Hale wrote in a decision, according to the Associated Press. "It was an order, an instruction, a command."
On Thursday, however, Trump's lawyers argued that those protesters "obviously interfered with the Trump campaign's First Amendment right" because they were "vigorously expressing their disdain for Mr. Trump."
"Of course, protesters have their own First Amendment right to express dissenting views, but they have no right to do so as part of the campaign rally of the political candidates they oppose," Trump's lawyers' briefing says.
Trump's lawyers asked for the judge to halt proceedings in the case as Trump appeals the decision to a higher court.
But complicating the proceedings are comments from two of the rally attendees who are accused of pushing the protesters during the same Kentucky rally.
Matthew Heimbach, a white supremacist facing charges over his actions at the rally, said he "relied on Trump's authority to order disruptive persons removed," according to the New York Daily News.
Alvin Bamberger, another Trump supporter accused of shoving the protester, also said he acted from the "urging and inspiration" of Trump, according to CNN.