Hillary Clinton slams Trump for silence on torture of gay and bisexual men in Chechnya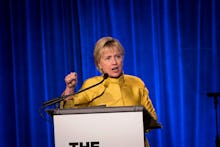 On Thursday, Hillary Clinton appeared at The Center, New York City's LGBTQ community center, to receive an award. While addressing the crowd, she had particularly harsh words for President Donald Trump and his administration's lack of concern for LGBTQ rights. 
The former Democratic presidential nominee spoke about several recent events in the Trump administration, including news that Trump's administration may have eliminated LGBTQ Americans from the upcoming 2020 census. Clinton also mentioned "clouds gathering in the horizon" abroad, specifically reports out of Chechnya regarding the torture and killing of gay and bisexual men by the Chechen government.
"When governments authorities were confronted with these reports, their response was chilling," Clinton said. "They said you cannot arrest or repress people who do not exist. The United States government — yes, this government — should demand an end to persecution of innocent people across the world." 
The crowd greeted her remarks to raucous applause.  
She added, "We may not ever be able to count on this administration to lead on LGBT issues." 
Clinton also slammed Trump for his lack of leadership on transgender rights and HIV/AIDS, according to CNN.
"When this administration rescinded protections for transgender students, my heart broke," Clinton said. "When I learned about the proposed cuts in funding for HIV and AIDS research, I thought about all of our efforts to try and achieve an AIDS-free generation." 
She ended the night asking those in attendance to "Resist, insist, persist and enlist."