'Pokémon Go' Easter Event Extended: Can Eggstravaganza eggs hold us to the next countdown?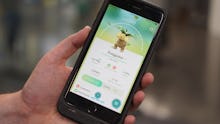 Much like the Water Festival, Pokémon Day and Valentine's Day events before it, the Eggstravaganza has come to an end. The passive double XP buff is gone, as are the extra candies you received for hatching eggs.
But there's a reason to suspect the egg-based good times might keep on rolling for you in Pokémon Go, at least for a little while.
Pokemon Go Easter Event Extended: What's going on with egg groups
There's something to note about eggs in Pokémon Go. If you check the egg tab and click on an egg, you'll see two pieces of information about it near the bottom of the screen — where you caught it, and when. That last piece of information isn't normally super important, since the egg groups are broken up by distance.
However, as Heavy reported, the fact that the 2km egg groups were specifically changed for this event means that you could continue to see some weird Pokémon popping out of your eggs for the foreseeable future, depending on how many eggs you managed to snag during the event. 
Essentially, because egg groups were changed for the event, 2km eggs that you've picked up between the event dates — which ran April 13 to April 20 — could still have a chance to spawn rare Pokémon. Sure, you're not getting the benefit of double XP or extra candies from hatching them, but at least it's something. 
As an added bonus, this means that those 5km eggs you picked up during the event will still have a chance to hatch those Gen 2 starters — perfect if you don't have a nest nearby.
It's not all good news though. Since rare Pokémon were added to the 2km egg group and didn't replace them, there's still a chance you'll just get a regular 2km egg group Pokémon from your eggs, even the ones with the event timestamp. But you won't know until you try, and you've got to clear those eggs out somehow, so you might as well get to walking and see what you get.
More Pokémon Go guides, tips and tricks
If you're booting up the game for the first time in a while, be sure to check out Mic's guides on how to get stardust, how to determine how long it will take you to reach level 40, the kind of Pokémon you get from 10-kilometer eggs, how to create new PokéStops, how to maximize your chances of catching Pokémon and how PokéStops distribute Pokémon eggs. Also check out how to catch Gen 2 baby Pokémon, our analysis of post-balance update Chansey and Rhydon and everything you need to know about finding the long-awaited Pokémon Ditto.