Free trade is back in the crosshairs of Donald Trump's executive orders. Here's why.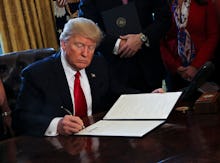 The White House is planning a sustained campaign around fighting an issue it finds favorable: free trade. On Thursday, Trump signed an executive order that opens an investigation into whether imports of steel threaten American national security. Wilbur Ross, Trump's commerce secretary, said the investigation could yield a tariff on foreign steel, which would send a message to Trump's supporters and foreign leaders he is serious about protectionism.
This order follows Trump's "Buy American, Hire American" executive order signed Tuesday and Vice President Mike Pence's trip to Japan during which he said the United States wants to renegotiate trade between the two countries. Flashing his "America First" views, Trump pressed Italian Prime Minister Paolo Gentiloni on Thursday to answer whether the American ally would contribute a full 2% of its GDP to NATO — an amount Trump demanded during the campaign.
Earlier this week, Trump reiterated his campaign trail position that the North American Free Trade Agreement "has been a disaster for the United States." Instead of criticizing Mexico, a frequent target of his attacks, Trump set his sights on Canada, calling a Canadian tax on American milk "very unfair" and a "disgrace." In the next two weeks, Trump said he will announce his plans for NAFTA, saying he would scrap the deal if the U.S. does not receive concessions to the current deal.
More than any other issue, free trade may have been the talking point that put Trump in the White House. A plurality of voters last fall, according to exit polls, said free trade "takes away U.S. jobs" — and Americans with that view cast their ballot for Trump by a 32 point margin. In Michigan, Pennsylvania and Wisconsin, at least half of voters said free trade was bad for American jobs and voted for Trump by a similarly wide margin.
As Trump's first 100 days come to a close, it is unlikely he will notch the major legislative victory the White House is looking for. The president and congressional Republicans have been successful in rolling back Barack Obama-era regulations. But a victory on health care or concrete progress on tax reform have been elusive. The president has reason to believe he can win through aggressive foreign policy. Pursuing protectionist economic policy may offer Trump a similar winning political issue to prop up a struggling presidency.
Gut check: Trump's approval rating is at 43%. That's eight points higher than three weeks ago.
This is Mic's daily read on Donald Trump's America. Welcome to the political newsletter that hopes you'll be watching my Facebook Lives from the March for Science on Saturday. You can follow Navigating Trump's America on Facebook here.
Highlights:
Today: Why the president has returned to a tried and true issue: free trade.
More: A government shutdown looms.
Even more: The White House wants a vote on health care. House Republicans are not as enthusiastic.
March for Science: Mic will be covering Saturday's nationwide March for Science from Washington and New York. Read our preview of the march in Washington and learn where affiliated marches will be taking place around the country. Yours truly will be live on the National Mall beginning Saturday morning.
Trump's agenda today: Signing executive orders to evaluate the tax code and financial regulations. Meeting with the White House budget director and treasury secretary.
Next week: Government shutdown and health care votes
One reason Trump is trying to notch moral victories on free trade this week: Next week could torpedo his approval rating, again.
The White House is pressuring House Republicans to vote on a new health care proposal, one that bears many similarities to last month's failed bill. The Trump administration is eyeing the clock, hoping for a legislative victory by April 29 — next Saturday and the end of Trump's first 100 days.
House Republicans would rather not take up health care again. Passage of the current proposal is far from certain in the House, let alone the Senate. It would mandate protections at the federal level, like requiring insurers cover essential health benefits and charge people the same premium regardless of how sick they are. But the "compromise" with conservatives would allow states to gut those requirements.
All that would come before a Friday vote to keep the government functioning. The current resolution funding Washington expires on April 28. Republican leaders have said repeatedly they will not let the government shutdown, but it is hard to take these legislators at their word.
The White House says it wants to pressure Democrats to support funding for Trump's border wall in exchange for keeping the government open. Senate Democrats, especially, are likely to balk at that proposal. Funding for the wall was not a priority for Capitol Hill Republicans either, meaning the White House could torpedo all negotiations over the wall.
Watch this space.
More executive orders
By the time Trump is done signing orders, every corner of the federal government may be under review. He will head to the Department of Treasury on Friday to direct Steven Mnuchin, the treasury secretary, to review the tax code and financial industry regulations. The orders, which take no concrete action, could lead to further dismantling of Obama-era regulations on Wall Street. Trump and Mnuchin have both heavily criticized laws like the Dodd-Frank Wall Street Reform and Consumer Protection Bill that targeted risky financial industry trading practices.
News and insight you cannot miss:
•  California is a competitive space for Democrats. Rep. Adam Schiff, the ranking Democrat on the House Intelligence Committee, may have found his springboard to move from the House to the Senate. (Politico)
•  Trump is clearly anxious about his first 100 days legacy if his latest tweet is any indication.
•  ISIS took credit for the Paris shooting that left one police officer dead. The French presidential election is set for this weekend. (Mic)
•  House Minority Leader Nancy Pelosi thinks Democrats could win back the House in 2018. (The Hill)
•  Saturday is Earth Day. Here are five environmental fights we've already lost. And here five countries that fight climate change better than the U.S.