March for Science: How one Reddit post launched 600 marches across the world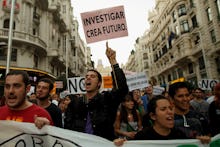 It began with a simple declaration on Reddit: "There needs to be a Scientists' March on Washington."
The Facebook page came only hours later. 
Then word started to metastasize. It spread among the Reddit forums, across Facebook and onto the Twitter feeds of science's most beloved public heroes, Bill Nye and Neil deGrasse Tyson among them.
On Saturday, this spreading message will come to a head as hundreds of thousands of people will March for Science, not just in its most prominent iteration in Washington, D.C., but in around 600 cities worldwide. 
It's hard not to see the march as political. President Donald Trump's administration has shown increasing hostility toward science and evidence-based policy; the president has failed to so much as appoint a science advisor. Moreover, government funds for research are dwindling. Trump has gone so far as to attack one of science's basic premises: it's search for basic truths about the universe.
The organizers of the march, however, are clear: it's not a partisan movement and not explicitly anti-Trump. Instead, the march's mission statement declares organizers want "robustly funded and publicly communicated science as a pillar of human freedom and prosperity" — no matter who's in power.
"Politics and science have been intertwined forever, going back to Galileo — that ship sailed long ago," Kishore Hari, who is coordinating the hundreds of satellite marches, said Thursday evening. "What we've been aiming for is non-partisan, where we're not campaigning or endorsing any party or candidate. Politics is just where science gets settled."  
Hari has organized a few major science festivals in California's Bay Area, and when he first spotted the Facebook page for the march, he thought it might just be a social media sensation that dies in a few days.
And then, just a few days after the postings went up, hundreds of thousands of people began signing up for the marches — and announcing their own marches across the country. Hari knew the message would catch fire in Europe, where there will be around 80 marches, but that was just the beginning of the international movement.
After Brazil's president slashed the federal science budget by 44%, Brasília, Rio de Janeiro and over a dozen other cities announced marches. Pages for organizing sister marches began to pop on social media in countries like Colombia, Argentina and Chile, where the focus will be on education.
In Canada, there are marches of solidarity — Canadian scientists remember how they were muzzled under Stephen Harper, Justin Trudeau's conservative predecessor who covertly slashed research funding. In Singapore and Turkey, where public protests are often met with harsh crackdowns, there will be brunches and dinners to discuss the march's core objectives and mission.
Early on, as word began to spread, there were accusations that the march would be mired in battle over the its purpose — an alleged squabble between white men in STEM subjects wanting to keep it about the science, and the "social justice warriors" who wanted to make it about politics and culture. The organizers insist that these issues have either been resolved or were overblown in the first place, a problem existing more in social media bickering than in the reality of organizing.
"I understand the internal and external frustration in regard to social justice issues, but the whole strategy behind organizing this entire march is integrating some diversity into every part of the organization," Sofia Ahsanuddin, who's on both the steering committee and the diversity committee of the march, said on Thursday.
Kishore Hari stressed that it's not just scientists marching. Most of the organizers and supporters making signs, planning travel and securing permits are people who want evidence-based policy to play a role in their local schools and government.
But Hari is marching for his own reasons, beyond his organizing background or his work in the field. In 1961, his father came from India after he was admitted to an American university to study science — and science is the reason he's here to march.
"We need to maintain the open borders of science, so that the opportunities my family had can resonate for millions more," he said.