Paris Shooting: How French candidates are reacting and how it may impact the election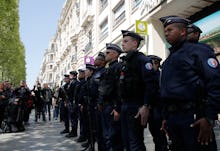 French presidential candidates are reacting to the Paris shooting that killed one police officer and wounded two others Thursday on the Champs-Élysées in what appears to be an act of terror. 
The four frontrunners — Marine Le Pen, François Fillon, Emmanuel Macron and Jean-Luc Melenchon — all expressed support for French police in the wake of the attack, which also left the gunman dead. 
Le Pen, a far-right nationalist, tweeted that police were "once again targeted." "My emotions and solidarity for the police, once again targeted," she wrote.
Fillon, a conservative, tweeted in "homage" to police, writing, "Paying homage to police who give their lives to protect ours."
Macron, a centrist, pledged his "solidarity and regard to our law enforcement forces" and gave his thoughts to the family of the officer killed. 
And Mélenchon, a leftist who has recently surged in the polls, wrote on Twitter that "terrorist acts will never remain unpunished" and "accomplices not forgotten."
How will the attack impact the French election?
The attack came just ahead of the first round of voting in the French presidential election, which begins April 23, and was claimed by the Islamic State.
President Donald Trump said Thursday the attack would have a "big effect" on the election.
Le Pen, who has centered her campaign on the kind of nationalism Trump rode to the White House, said in a statement after the attack that "radical Islam" — a "monstrous, totalitarian ideology that has declared war on our nation, on reason, on civilization" — was to blame, and called for France to immediately restore its borders.
But French Prime Minister Bernard Cazeneuve accused Le Pen of attempting to "profit" politically from the attack and use it to gain momentum in what has been an unpredictable election for the country.
"The candidate from the National Front, like every drama, seeks to profit and use the situation to divide and benefit for exclusively political ends," Cazeneuve said. 
Le Pen's opponents have called for calm in the wake of the attacks, and an expert on French politics told CNN that voters could view the nationalist as too radical to provide reassurance. But Le Pen could benefit if the attack results in lower voter turnout, CNN reports. 
As of Thursday, polls continued to show the four leading candidates in a tight race. Macron led with 24% followed by Le Pen with 22.5%, Fillon with 19.5% and Mélenchon with 18.5%.