iPhone 8 leak teases a fingerprint scanner on the back of the device — and fans are angry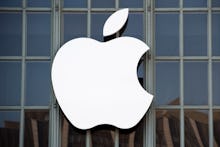 Apple's iPhone 8 may be delayed, but a new leak offers a sneak peek at what might be on the horizon.
Thus far, rumors suggest the premium model — likely called the "iPhone 8," commemorating the 10-year anniversary of the iPhone — will have an edge-to-edge "full screen" OLED display that is bezel-less. Apple is supposedly parting ways with the home button, which is said to be integrated within the screen.
The new leak, BGR reported, was shared on Twitter by Sonny Dickson on Wednesday. Should it be authentic, it shows the device's Touch ID fingerprint scanner on the back of the 5.8-inch handset, much like the newly released Samsung Galaxy S8, below the Apple logo.
The S8 has received an abundance of criticism for the location of the sensor, and should Apple follows suit, it will likely face the same fate. If the response on Twitter and Reddit's reaction to the leak is any indication, then Apple will definitely be upsetting many of its loyal fans.
"I'll say it again," one consumer wrote on Reddit. "I hate this so much. I can't count many times a day I unlock my phone while it's laying down in my car, or on my desk, my bed, or on my lap. It is NOT worth trading the front scanner for the bezel loss." 
Others took to Twitter to air their grievances:
The good news is BGR noted that Dickson has a mixed record of valid leaks. But adding fuel to this leak is the reason behind Apple's iPhone 8 delay. The original reports from the Chinese-language Economic Daily News said that the smartphone is suffering from "technical issues related to the lamination process of curved OLED panels." Brian White, a Drexel Hamilton analyst, told CNBC that their contact "strongly believes the 5.8-inch iPhone will be delayed by several weeks due to challenges around the 3-D sensing technology."
The silver lining is that a delay suggests Apple is working on a solution for its problem and, if it's paying attention to social media and the reaction to the S8, the company knows exactly what consumers don't want.