Pregnant Beyoncé: Twitter comes to the defense of 'Formation' singer over body shaming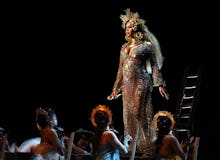 Body shaming is an all-too-pervasive online practice — and apparently, even Beyoncé isn't immune to it. 
The music superstar — who is currently pregnant with twins — was criticized by some on Thursday after paparazzi photos were released of Beyoncé leaving a party at Hollywood's Beauty & Essex bar. Online trolls mocked Beyoncé's appearance, leveling such insults against the singer as "fat as hell," "obese" and "swollen."
But the superstar's loyal BeyHive was quick to put these haters in their place, pointing out the obvious fact that Beyoncé isn't letting herself go — she's bringing two new lives into the world.
And these online bullies certainly aren't having an impact on Beyoncé's success. The musician earned a Peabody Award for her visual album Lemonade on Thursday, which the awards committee described as a "stunning and sublime masterpiece ... seldom seen or heard in American popular culture."