Meet Lisa Bloom, the attorney who brought down Bill O'Reilly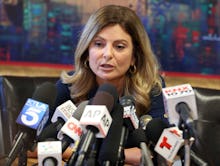 With an alleged sexual predator occupying the nation's highest office, it initially seemed rather unlikely that anything particularly unsavory would befall Bill O'Reilly. 
Despite the multiple sexual harassment allegations against him that spanned his 21-year career at Fox News, there was a sense that powerful men rarely got what they deserved. O'Reilly, many people guessed, would escape the allegations relatively unscathed.
But attorney Lisa Bloom knew better.
"I knew we were going to get Bill O'Reilly fired," Bloom said Friday in an interview. "I was 100% confident."
Bloom, who's been handling sexual harassment cases for 30 years — following in the footsteps of her mother, Gloria Allred, the famous civil rights lawyer who defended several of President Donald Trump's accusers — said she was well aware of which buttons to press to get Fox News to bend to her will. When former Fox News contributor Wendy Walsh, the first of O'Reilly's accusers to go public, came to Bloom with her story, Bloom immediately launched an infallible legal and media strategy that would guarantee O'Reilly's ousting. Walsh, though, hadn't been entirely convinced.
"All of Wendy's friends were telling her, 'Don't go on the record with this. It'll be very scary, terrible things will happen,'" Bloom said. "I was the lone voice in the wilderness saying, 'No, you should do it. You should be brave. You should speak your truth.'"
After a pep talk, Bloom convinced Walsh to give her story — which had already been featured in the New York Times' investigation of O'Reilly — a wider reach with news conferences, television appearances and a whole media blitz.
Bloom knew this component was key for two reasons: First, Walsh continuing to share her experience of being propositioned by O'Reilly meant the harassment allegations against him would stay in the news cycle longer. But what's more, Walsh's courage to speak out would convince other accusers to come forward with their own stories.
Bloom had another trick up her sleeve too — and it was one Fox News had inadvertently handed her years ago. When Bloom was litigating another harassment case involving the company, Fox News executives pointed out that her client hadn't called the news station's hotline to report the alleged harassment. Remembering their complaint, Bloom pulled out Fox News' code of conduct handbook — which she keeps on file — and looked up the hotline number. The mysterious number had no statute of limitations defining the window of time in which employees could report harassment, and didn't even require a complainant to be an employee at all. 
Days later, Bloom sat beside Walsh as she called the hotline for the first time, capturing it all on video for posterity. 
The video encouraged Caroline Heldman and Perquita Burgess to bring their own allegations to Bloom, which — on top of a $13 million settlement to five other accusers and millions lost in ad revenue — put enough pressure on Fox News to drop O'Reilly on Wednesday.
In a "victory statement" on Twitter, Bloom wrote, "This is what happens when women speak our truth: We can slay dragons."
Bloom's latest victory hits close to home.
Bloom said she's experienced "many instances" of harassment throughout her career, the worst of which came when she worked at a television network in her 40s.
The head of the network had asked Bloom to a one-on-one business dinner, where he got drunk and later forced his way into Bloom's home, pushed her against a wall and stuck his tongue down her throat. Bloom said her reflex was to push him off of her, yell "no" as loudly as she could and slam the door in her face. 
Moments later, reality set in.
"I thought, 'Oh my god. I've literally just shoved my boss out the door, slammed the door in his face — I probably hit him in the face with it,'" Bloom said. "I was very concerned about my job. It was my first year at this company and it meant a lot to me."
Bloom found herself in the same bind her clients are all too familiar with. Report the harassment and risk losing your job. Or keep quiet and risk it happening again or to someone else. 
Bloom ultimately took her own advice, bringing a written complaint to human resources and reminding them they had a legal obligation to investigate the incident. They did, and the network's head received the additional sexual harassment prevention training Bloom requested.
It's small victories like this that gives Bloom the confidence to chase after the larger ones — like felling Fox News' 67-year-old golden boy.
Bloom has always had a feminist consciousness guiding her career as an attorney. But in the wake of O'Reilly's firing, Bloom realized it's more important than ever for her to identify explicitly as a "feminist attorney."
"I want women to know I believe in women," she said. "I believe in our equal right to be treated with respect in the workplace and I want us to stand up and speak out when wrongs are done against us."
Bloom said the most rewarding part of defending O'Reilly's accusers wasn't finally seeing O'Reilly fired — it was seeing her three clients grow stronger and more self-assured as they shared their stories.
"One of my great joys in this case was going through this process with Wendy, who began very scared and has really emerged as a goddess," Bloom said. "She is so strong, so empowered and she's talking about some really amazing next steps in her life.
"If there's anything I can do to empower women, I want to do that."