German-Russian suspect bombed soccer bus, then blamed Muslims, investigators say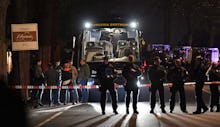 A 28-year-old German-Russian man was charged Friday with bombing the Borussia Dortmund soccer team bus on April 11. German officials said the man aimed to profit financially from the tragedy and blame Muslims for the fallout, the Associated Press reported.
The suspect, identified as Sergej W., allegedly planted three explosive devices along the team's bus route and left several notes at the crime scene suggesting Islamic terrorists were responsible. Just days before the attack, he took out a loan to bet Borussia Dortmund's stock shares would drop — a likely scenario if any of the team's players were severely injured or killed, prosecutors said.
German Interior Minister Thomas de Maiziere called the scheme a "particularly perfidious way to toy with people's fears," according to the Associated Press, hinting at the widespread fear-mongering aimed at Muslims that has gripped the globe in recent months.
Reports say investigators caught wind of Sergej W.'s plot when he made "suspicious options purchases" for shares in Borussia Dortmund stock using a computer at the same hotel the team stayed at in Dortmund, Germany. The Associated Press reported Sergej W. allegedly used the money to buy so-called "put options" in the team, betting Borussia Dortmund's shares would plummet. 
Nobody was killed in the attack, though a police officer and 26-year-old Marc Bartra, a Borussia Dortmund defender, were both injured. Bartra later underwent surgery on his arm and wrist, but reassured fans on Instagram the next day that he was doing "much better." 
"Thank you everybody for all your support and your messages!" Bartra wrote.
The alleged bomber will appear in court Friday, where prosecutors will determine whether they have enough evidence to continue holding him. Minister de Maiziere said investigators had been surveilling Sergej W. for more than a week and that the evidence against him was "significant," according to the Associated Press.
The notes left at the scene called for the withdrawal of German fighter jets helping fight the Islamic State and for the closure of a U.S. airbase in Germany, implying a political motive. But based on reports, Sergej W. seems to have been motivated by greed alone, mentioning the fighter jets solely to blame what he knew would be an easily scapegoated minority.
"The fact that someone wanted to enrich himself by killing people to influence the stock market is particularly reprehensible," de Maiziere said.