McDonald's teamed up with two designers to give its uniforms a modern makeover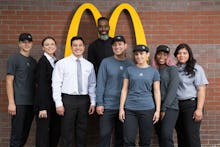 This is the fast-food worker's uniform of the near future, or so says McDonald's. 
After teaming up with two fashion designers — Waraire Boswell and Bindu Rivas — McDonald's has revealed new uniform designs for its more than 14,000 U.S. locations, set to debut on employees nationwide in April. 
First up is the Rivas-designed Timeless Elements collection, which features various shades of grey and denim, along with a denim hat and a denim apron that can be adapted to cover an employee's entire body or just their lower half. 
"Employees are the face of any brand, and when it comes to uniforms, we knew that McDonald's restaurant employees wanted something that bridges the gap between fashion and function, and it was our job to create a unique apparel line that fits the look of McDonald's while highlighting the individuality of its crew and managers," Rivas said in a press release. 
Next is the Boswell-designed WARAIRE for McDonald's collection. Boswell has suited up notable men like Ryan Gosling and Bruno Mars; he's also, ironically, a former McDonald's employee, giving him insight into what these employees really need. 
"As a former McDonald's crew member myself, I understand the design and functionality needs of the next generation of McDonald's uniforms, and I was personally inspired to design a look and feel that gives restaurant employees a greater level of confidence," Boswell said.
Boswell's collection is all about monochromatic basics, featuring T-shirts, pants and polo shirts in varying shades of blue. 
Boswell told Refinery29 he looked at past uniforms from 1950, 1968 and 1974 for inspiration.
"When designing a custom collection or a 45-piece ready-to-wear collection, it is important to design from the client's point of view ... Universally speaking, it is no secret that everyone does their best when they feel confident and comfortable," Boswell said. "It is always essential that no matter who I am working with, I make sure they look and feel great."
And as you can see from the above image, McDonald's has certainly come a long way from pastels and bright colors.