'Call the Midwife' Video Exclusive: Favorite behind-the-scenes moments from the cast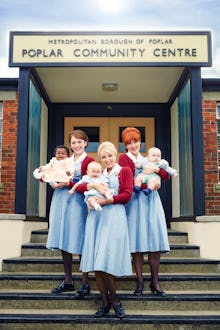 If you're just dying to know how the cast of British drama Call the Midwife breaks up the daily routine of filming day in and day out, we've got just the thing.
In an exclusive video to Mic, CTM actors Helen George, Stephen McGann, Charlotte Ritchie and Jenny Agutter share some behind-the-scenes tidbits for their fans, specifically their preferred shooting locations and favorite moments of the working day.
For George, who plays Nurse Trixie Franklin, the answer is easy: "Favorite part of the working day is snack time," she says with glee. "At 11 o'clock, when we've been working for quite a few hours, snacks come out, and we always go, 'Snacks!' We all get terribly excited — it's so ridiculous."
McGann, a.k.a. Dr. Turner, and Ritchie, a.k.a. nurse Barbara Gilbert, aren't so much into the food-centric respites as they are the opportunity to catch up with their co-workers. Both agree that their favorite part of the day is getting into the makeup chair.
"It's just nice having a chat with everybody," says Ritchie.
The video also includes the cast members' choice filming locations: Agutter, who plays Sister Julienne, doesn't hesitate to talk about going to South Africa, which served as the setting for CTM's 2016 Holiday Special.
Watch the clip below:
Call the Midwife airs Sundays at 8 p.m Eastern on PBS.
Mic has ongoing TV coverage. Please follow our main TV hub here.